Arenas
Arena Schedules and Admissions
The City is implementing the Restoring Richmond Plan, a carefully planned step-by-step approach to reopening services, amenities and facilities impacted by COVID-19. See Affected City Services & Facilities for current service and amenity information.
Arena Schedules


Richmond Ice Centre - Stick & Puck Schedule - Fall 2020

Richmond Ice Centre - Public Skate Schedule - Fall 2020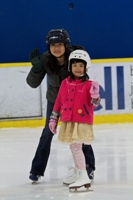 Helmet Policy
The City strongly recommends wearing a CSA approved hockey helmet to prevent injuries during public skating sessions and for all programs at Richmond Arenas.
Helmets are approved for each sporting activity for the best protection during a specific activity, for example, hockey, cycling and boarding. Note that a sport specific helmet cannot prevent all head injuries in all sports.
Helmets have a limited CSA certification time period. Ensure that you are protecting yourself by wearing an activity specific helmet with a current CSA certification. For all skating and ice-related sports, it is strongly recommended that a hockey helmet be worn.
​Public Skate
For your safety and enjoyment:
Always skate under control
Watch out for others
Skates must be worn at all times on the ice surface
Refrain from carrying children while on the ice
Skate in designated areas
Remove yourself from the ice surface and use the benches or bleachers if you need to sit down or rest
Keep food and beverages in the lobby area
Obey all instructions from staff
Avoid using electronic devices while on the ice
Wearing gloves or mitts and long pants to prevent cuts and provide warmth is recommended
Consideration for beginners expected
Figure skating with jumps or spins not permitted.
Formal private skating lessons not permitted during public skating sessions
​​Booking Procedure

Skaters may register one week in advance to hold a spot. Registration opens every Monday at 10:00am for all programs starting the following week. Register online at richmond.ca/register or call the Registration Call Centre at 604-276-4300, Monday to Friday from 8:30am to 5:00pm.
Back to Top

Admissions and Fees
| Single Admission | 2020 Fees |
| --- | --- |
| Preschool (0-2 years) | Free |
| Child (3-12 years) | $3.45 |
| Youth (13-18 years) | $3.85 |
| Adult (19-54 years) | $5.45 |
| Senior (55+ years) | $3.85 |
| Family (per family member) | $3.45 |
| Punch Card | 2020 Fees |
| --- | --- |
| Child | $31.10 |
| Youth | $34.70 |
| Adult | $49.10 |
| Senior | $34.70 |
| Skate Rental | $27.90 |
| Child Drop-In Hockey | $41.00 |
| Drop-In Figure Skating | $63.90 |
| Adult Drop-In Hockey (day) | $61.70 |
| Adult & Child Stick & Puck | $52.70 |
| Adult Stick and Wheel | $63.50 |
| Adult Stick & Puck | $63.50 |
| Skate Sharpening | $52.20 |
| Beginner/Senior Drop-In Hockey | $61.70 |
| Equipment | 2020 Fees |
| --- | --- |
| Skate Rental | $3.10 |
| Skate Sharpening | $5.80 |
| Helmet Rentals | Free |
| Other Rates | 2020 Fees |
| --- | --- |
| Child Drop-In Hockey | $4.55 |
| Adult Drop-In Hockey (early morning) | Free |
| Adult Drop-In Hockey (daytime) | $6.85 |
| Adult Drop-In Hockey (evening/weekends) | $12.25 |
| Adult Stick & Puck | $7.05 |
| Adult & Child Stick & Puck | $5.85 |
| Adult Stick & Wheel | $7.05 |
| Drop-In Figure Skating | $7.10 |
| Youth Stick and Puck | $5.85 |
| Beginner/Senior Drop-In Hockey | $6.85 |