Arenas
About Arena Services
​Minoru Arenas (MA)
7551 Minoru Gate
Richmond, B.C. V6Y 1R8
Phone: 604-238-8465
Fax: 604-718-8475



Minoru Arenas Location Map


Recreation Centres Map


City Centre Area Map
Facility Hours
Closed for maintenance until Aug 15, 2021.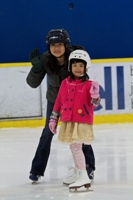 ​Facility Information
Minoru Arenas is located in the heart of Richmond, just off the corner of Granville Street and Minoru Boulevard and is part of Minoru Park, which includes Minoru Centre for Active Living, the Richmond Cultural Centre and Richmond (Brighouse) Library.
Facility Amenities
2 regulation size rinks (200' x 85') with ice offered from September to April and dry floors from April to August
8 dressing rooms
1 meeting room
Time Out Cafe concession
Free on-site parking
Seating for up to 2,000 spectators in the Stadium rink
Minoru Arenas is home to the Junior "B" Richmond Sockeyes of the Pacific International Junior Hockey League, the Connaught Skating Club and Richmond Lacrosse Association.

For larger events, the Arenas offers 17,000 square feet of dry floor space from April through August.
​Richmond Ice Centre (RIC)
14140 Triangle Rd.
Richmond, B.C. V6W 1B1
Phone: 604-448-5366
Fax: 604-448-5399

Email: arenas@richmond.ca



Richmond Ice Centre Location Map


Recreation Centres Map


East Richmond Area Map
​Facility Hours (for Registered Visits only)
Access to this facility is permitted for pre-registered visits only.
Mon-Sun: 6:00am-11:00pm
Visit the Schedules and Admissions page for details.
Facility Information
The Richmond Ice Centre is part of the Riverport Sports and Entertainment complex located just off Highway 99, via exit 32, Steveston Highway east.

Facility Amenities
6 regulation size rinks (200' x 85') with ice offered year round with dry floors in the spring and summer on two of the rinks
4 dressing rooms per rink
2 meeting rooms
Year round skating lessons for all ages
Year round public ice skate times
Accommodation for tournaments up to 50 teams
Free on-site parking
The Richmond Ice Centre is home to Richmond Jets Minor Hockey, Richmond Ringette, Richmond Ravens, Connaught Skating Club and Coast Hockey.
Facility Staff
Manager, Aquatic & Arena Services: John Woolgar
Coordinator, Arena Services: Grant Nishi
Community Facilities Coordinator: Will Kump
Community Facilities Coordinator: Nicole Tjepkema
Recreation Facility Clerk: Karen Arce
​Learn to Skate Supervisor: Michelle Popoff
Arenas Maintenance Supervisor: Trevor Shaw ​

Richmond Arenas Community Association
The Association - in partnership with user groups Richmond Jets Minor Hockey, Richmond Ravens Female Hockey, Richmond Sockeyes Junior Hockey, Connaught Skating Club, Richmond Ringette, Richmond Lacrosse, Coast Hockey League and Richmond/South Delta Ball Hockey - is committed to the utilization and development of quality arena facilities. These groups are responsive to present and future needs of our community through excellent and safe arena programming opportunities.

Contact the Richmond Ice Centre at 604-448-5366 or arenas@richmond.ca for more information.
RACA Executive
Chairperson: Dominic Poon
Vice-Chairperson: Nigel Shackles
Treasurer: Dean Cardno
Secretary: Nicole Swanson
Stanley's Sports Bar and Grill
Stanley's is located on the 2nd floor of the Richmond Ice Centre and overlooks the Forum and Coliseum rinks. The Rinkside Grill concession is located in the main foyer.

Manager: Stephen May
Phone: 604-274-0011
Email: Stephen.May@richmond.ca
​Website: stanleysgrill.ca

Cyclone Taylor's Proshop
This convenient and on-site shop can meet all ice equipment needs.

Phone: 604-448-1748
​Website: cyclonetaylor.com