Trails System Map
Westminster Highway Recreational Trail
The Westminster Highway Recreational Trail is a cycling and running route from No. 6 Road to No. 8 Road, along the Westminster Highway corridor.

From this trail there are great views of North Shore mountain ranges, farm land and agricultural activities along the trail; however, the recreational trail runs adjacent to Westminster Highway traffic flow, and vehicle congestion can become quite heavy during the peak traffic periods of 7:30-9:00am and from 3:30-6:30pm.
Exercise caution! Be aware of both passenger and commercial vehicular traffic when using this trail.
Points of Interest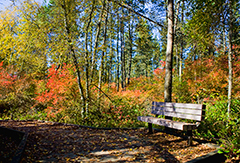 Richmond Nature Park and Nature Park East
Nature interpretive centre, walking trails, a short boardwalk trail suitable for wheelchairs and strollers, unique bog vegetation, observation of birds and animals, picnic area, parking, washrooms. For more information, see
Richmond Nature Park
.
King George / Cambie Community Park
This large 30 acres park in East Richmond and offers various amenities including an artificial turf field, spray/waterplay, community garden, and a picnic area.
Sport amenities at this park include 5 sports fields 4 ball diamonds, 3 basketball courts, 3 tennis courts and spectator bleachers. In addition to the the sports amenities in the park, there is a themed waterplay area with geysers, spray toys and more. For more information, please visit the King George / Cambie Park webpage.
No 7 Road Fishing Pier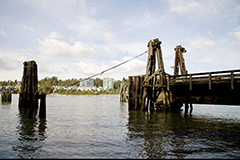 A restored former barge loading pier, this location situated along River Road, has an open grass area, woodlot and small beach. There is a washroom and limited parking is available.