Trails System Map
Steveston Greenways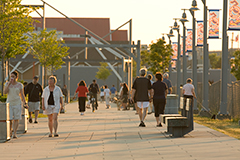 The Steveston Greenways link public park space with the waterfront, industrial, commercial, and historical points of interest found in and around the historic fishing village. 

 Trail Maps 2015 - Steveston Greenways
Points of Interest
Garry Point Park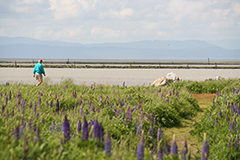 A 39 acre waterfront park at the mouth of the Fraser River and close to Steveston Village with spectacular views and beaches. Points of interest in the park are the Japanese Garden, Fisherman's Memorial sculpture and Scotch Pond Historic Moorage site.  Parking, picnic tables, washrooms and a food concession stand are available.
Gulf of Georgia Cannery
A national historic site and cannery commemorating the West Coast fishing industry with the use of themed exhibits. Guided and self-guided tours, programs and gift shop. Open from April to October. For more information, please see the the Gulf of Georgia Cannery website.
Steveston Historic Fishing Village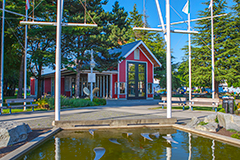 Features shops, markets, galleries, restaurants, Public Fish Sales Float, commercial boat tours and the Steveston Museum.
Steveston Park and Community Centre
A popular 30 acre community park with a large children's playground, picnic tables, outdoor swimming pool, tennis courts, Japanese Cultural Centre and Martial Arts Centre, recreation centre and library .
Imperial Landing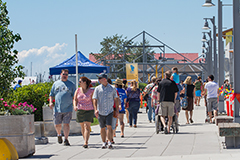 6.5 acres of waterfront park and trails situated on the historic cannery site BC Packers Ltd. Recently finished during the redevelopment of the BC Packers lands, this scenic promenade features BC Packers artifacts, interpretation signage, timber boardwalks, viewing tower, piers, public art features and access to cafes, shops and more.
Britannia Shipyards National Heritage Site
Over 8 acres of a historic waterfront park with turn-of-the-century cannery residences, boat works, shipyard, boardwalk, marsh view and Murikami Visitor Centre. Self-guided tours, brochures, seasonal exhibits, gift shop, washrooms and parking available. For more information, please see Britannia Heritage Shipyard.

London's Landing / No. 2 Road Fishing Pier
Historic area at the start of the South Dyke Trail with views of Steveston Island (aka Shady Island) and the historic Cannery Channel. Fishing float, picnic tables, washrooms, interpretation signage and parking available.