Trails System Map
Shell Road Recreational Trail / Garden City Greenway
Shell Road Recreational Trail
The Shell Road Recreational Trail is 3.6km long interior trail that runs north/south along the Shell Road corridor from Alderbridge Way to Athabasca Drive, north of Williams Road. This interior recreational trail has a distinctly rural feel to it with tall trees and shrubs lining both sides of it, making it a unique trail experience in an urban City Centre.
Please note: Tree failure can naturally occur, especially during wind storms and inclement weather; it is recommended that users exercise caution while enjoying the trail and watch for falling trees and/or branches.
The Shell Road Recreational Trail is considered a Dogs Off-Leash area. Please see Dogs Off-Leash Areas for more information.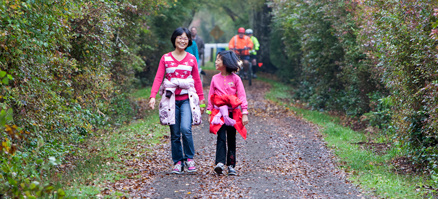 Garden City Greenway
This greenway is one of the major mid-island routes that links to many important destinations within the City including community parks, schools, the City Centre, and the other major cycling routes and greenways. It will also form a key link in the necklace of green spaces that define and strengthen the perimeter edge and entrances in the City Centre.
An existing 1.2 km section from Francis Road to Ryan Road takes you on a shared bicycle/trail path and into South Arm Park along a beautiful treed canal. Other sections of the trail will be constructed as major development occur in the City Centre area north of Granville Avenue.

Trail Maps 2015 Shell Road/Garden City Greenway
Points of Interest:
Minoru Community Park
Minoru Community Park is home to the City's major cultural and sports facilities. This park is currently seeing some significant changes including a new sports complex and new multi-use facility development. Please visit the Minoru Parks page for the latest updates and information.
Paulik Neighbourhood Park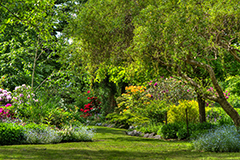 Paulik Park is a jewel in the "green necklace" of City Centre. Nestled in an area that has recently seen a lot of development, this small park provides a beautiful oasis for nearby townhome residents and includes such amenities as an ornamental garden, trails through a heritage woodlot and community gardens. Visit the Paulik Park page for more information.
Garden City Park Play Environment and Bike Terrain Park
Garden City Play Environment is a "go to" destination for families with children ages 3 and up. From traditional slides, climbing nets and swings to natural play elements, this play environment is designed for children of all ages to express their creativity and participate in physical activity in a social atmosphere. To learn more about this award winning play space, check out the Garden City Park page.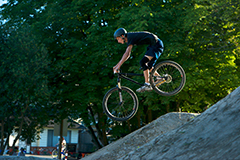 The Bike Terrain Park was officially opened in Garden City Park in early Fall 2014, after being relocated from its temporary site near No. 2 Road Pier. Located in the south-west corner of Garden City Park, this terrain park has jumps, ramps and obstacles suitable for bike riders of all ages and skill levels. For more information about this unique park feature, please visit the Bike Terrain Park page.
Richmond Nature Park and Nature Park East
The Nature Park is an area in central Richmond that is easily accessed using the interior Shell Road Recreational Trail and Westminster Highway. Open year round, the Nature Park is made up of 100+ acres of bog forest and offers an interpretive centre, walking trails, a short boardwalk trail suitable for wheelchairs and strollers, unique bog vegetation, observation of birds and animals, picnic area, parking, washrooms. For more information, see Richmond Nature Park.