Trails System Map
Railway Greenway
This 5-kilometre greenway trail running north/south from Britannia Shipyards to Middle Arm Dyke Recreational Trail is a unique and accessible cycling and walking route that connects neighbourhoods with points of interest and activities along the way. Together with existing trails, it now connects the Fraser River Middle Arm and South dike/Steveston waterfronts and all the neighbourhoods between.
Exercise caution at the north end of this trail! Be aware of both passenger and commercial vehicular traffic when crossing River Road to access the Dyke and the Middle Arm Trail.

Trail Maps 2015 - Railway Greenway
Points of Interest
Terra Nova Rural Park and Adventure Play Environment
Terra Nova Rural Park is a 63-acres city-wide nature park in the Thompson area with historic buildings, a community garden, a picnic area and an Adventure Play Environment.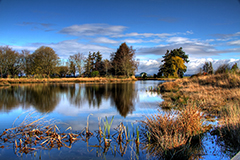 This rural park has excellent habitat for birds and other wildlife in the area. Boardwalks, slough and viewing platforms are available for enhanced park visibility and access. Various agriculturally oriented activities take place at the park including: a Waterwise Demonstration Garden, Community Garden and is home to user groups such as the Fruit Tree Sharing Project and the Terra Nova School Yard Project.
The Terra Nova Adventure Play Environment is a play experience unique to the Lower Mainland. It is the result of an extensive and highly successful community planning process, and reflects the agricultural traditions of the area and complements the City's growing collection of innovative parks. For more information, visit the Terra Nova Adventure Play page.
Branscombe House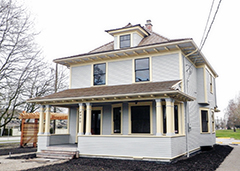 Branscombe House is one of the earliest homes built in Steveston and is significant for its historical association to the development of Steveston, both as a residential building and through its connection to the Branscombe family's general store located in downtown Steveston. It reflects the pattern of commercial and related residential development that occurred early in Steveston's history.
Aesthetically, the Branscombe house is important as a very good example of the Edwardian Builder style that recalls the historic character of residential Steveston and for its location on a prominent corner lot reflecting the importance of the owners. The decorative nature of the style was not typical of the early Edwardian houses.
Imperial Landing Waterfront Park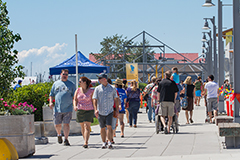 This 6.5 acre waterfront park and trails is situated on the historic cannery site BC Packers Ltd. Recently finished during the redevelopment of the BC Packers lands, this scenic promenade features BC Packers artifacts, interpretation signage, timber boardwalks, viewing tower, piers, public art features and access to cafes, shops and more.
Britannia Shipyards National Heritage Site
This site is more than eight acres of historic waterfront park with turn-of-the-century cannery residences, boat works, shipyard, boardwalk, marsh view and Murikami Visitor Centre. Self-guided tours, brochures, seasonal exhibits, gift shop, washrooms and parking available. Visit Britannia Shipyard for more information.