Trails System Map
Middle Arm Recreational Trail and Waterfront Greenway
The Middle Arm Recreational Trail is a 5.5 km dyke path adjacent to the Middle Arm of the Fraser River with views across to Sea Island, the Vancouver International Airport and the North Shore Mountains. This trail is easily accessed from the City Centre and links to the popular West Dyke Recreational Trail and directly to Sea Island from the No. 2 Road Bridge.

Trail Maps 2015 Middle Arm Trail and Waterfront Greenway
Points of Interest
Cambie Plaza and Pumpstation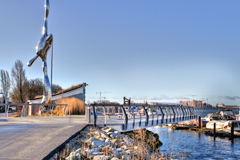 This unique pier and plaza form the northern most entrance to the Middle Arm Waterfront Greenway linear park. Featuring a large public art piece entitled Water #10 (2010), a dynamic pier structure and green-roof pump station, this site is a focal point along the Middle Arm of the Fraser River and a major entrance to the City's urban waterfront.
John M.S. Lecky UBC Boathouse
The Boathouse is a fully floating facility nestled along the banks of the historic Fraser River, with spectacular views of the North Shore Mountains, just minutes from the Vancouver International Airport and the heart of Richmond's business and entertainment district.
Hollybridge
This area is now home to the Richmond Olympic Oval, a new waterfront plaza and upgraded greenway. There are many amenities to enjoy in this area including a viewing platform and waterfall in the redesigned Hollybridge Pump Station, the revitalized Hollybridge Canal and the beautiful Water Sky Gardens art / park space on the east side of the Richmond Olympic Oval.
Information about this site can be found on the Middle Arm Waterfront Park page.
Oval West Waterfront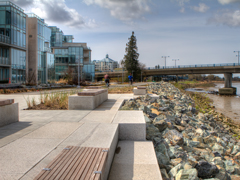 The development of the Oval West residential complex has extended the "urbanized" waterfront greenway from Dinsmore Bridge and the Richmond Olympic Oval to the No. 2 Road Bridge. This urbanization includes new, 'built-in' waterfront seating and a paved trail.
Dover Beach
From the viewing platform observe the busy seaplane harbour, marsh habitat, large willow trees and Swishwash Island. Skateboard Park is located across the road and has parking available.
Terra Nova Rural Park and Adventure Play Environment
Terra Nova Rural Park is a 63 acres city-wide nature park in the Thompson area with historic buildings, a community garden, a picnic area and NEW Adventure Play Environment.
This rural park has excellent habitat for birds and other wildlife in the area. Boardwalks, slough and viewing platforms are available for enhanced park visibility and access. Various agriculturally oriented activities take place at the park including: a Waterwise Demonstration Garden, Community Garden and is home to user groups such as the Fruit Tree Sharing Project and the Terra Nova School Yard Project.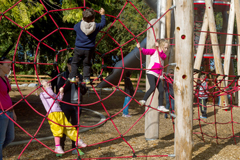 The Terra Nova Adventure Play Environment is a play experience unique to the Lower Mainland. It is the result of an extensive and highly successful community planning process, and reflects the agricultural traditions of the area and complements the City's growing collection of innovative parks. For more information please visit the Terra Nova Adventure Play page.