Trails System Map
Horseshoe Slough Recreational Trail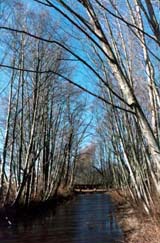 Starting near the entrance to Woodward's Landing Park (Scout Camp Park) one block west of No. 5 Road, this recreational trail presents users with two options. The west side of the trail, which is wider and flatter for easier pedestrian and cyclist accessibility and the east side, adjacent to several industrial sites, which is narrower and bumpier making for a little more challenge.

The trail also gives users the choice to take a shorter walk/ride by looping around the slough and returning back to Woodward's Landing Park.
Note: Tree failure can naturally occur, especially during wind storms and inclement weather. Exercise caution while enjoying the trail and watch for falling trees and/or branches.

2021 Trails Map South Dyke Trail/Horseshoe Slough Trail

Points of Interest
Horseshoe Slough Trail
This peaceful, tree-lined and rural trail connects the South Dyke to the Shell Road Recreational Trail crossing historic Horseshoe Slough with bridges and providing pedestrians and cyclists a shady, cool retreat from warm summer days.

Finn Slough
This historic slough settlement includes old buildings and homes on piles in a marsh habitat setting.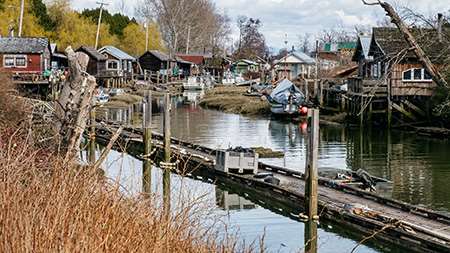 No. 3 Road Bark Park - Off-Leash Park
This park is for responsible dog owners to exercise dogs off-leash. Check out "Dog Party, a whimsical public art installation by Michael Swayne, parking and washrooms. See Dogs Off-Leash Areas for more information.
No. 3 Road Sports Fishing Pier
This fishing pier includes panoramic views of the Fraser River, Ladner, Mount Baker and river traffic. Parking and washrooms available.

Gilbert Beach
This small sandy beach is on the banks of the Fraser River.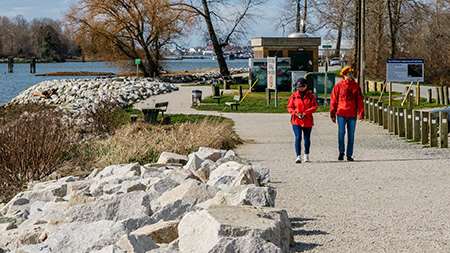 London Heritage Farm
This 4-acre restored circa 1906 farmhouse includes a barn, gardens and displays situated across the road from sandy beaches and marshes. Saturday and Sunday afternoon tea is served. Washrooms, picnic tables and parking available.