Trails System Map
Horseshoe Slough Recreational Trail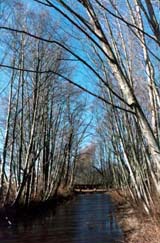 The Horseshoe Slough Recreational Trail is peaceful, rural trail that connects the South Dyke to the Shell Road Recreational Trail. The tree-lined trail crosses historic Horseshoe Slough with bridges and provides pedestrians and cyclists a shady, cool retreat from warm summer days.
Starting near the entrance to Woodward's Landing Park (Scout Camp Park) one block west of No. 5 Road, this recreational trail presents users with two options: the west side of the trail is wider and flatter, for easier pedestrian and cyclist accessibility and the east side, adjacent to several industrial sites, is narrower and bumpy making it a little more challenging.
The trail also gives users the opportunity to make a choice and either take a shorter walk/ride and complete the Horseshoe Slough Recreational Trail by looping around the slough and returning back to Woodward's Landing Park. 
Please note: Tree failure can naturally occur, especially during wind storms and inclement weather; it is recommended that users exercise caution while enjoying the trail and watch for falling trees and/or branches.

 Trail Maps 2015 - South Dyke / Horseshoe Slough Trail