Trails System Map
East Richmond / Queen's Canal Recreational Trail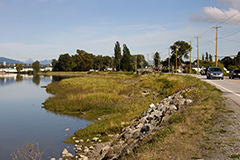 River Road between No. 6 Road and the Hamilton area is an uninterrupted stretch of road along the North Arm of the Fraser River with view of boating and log storage activities. To the south, accessed by Dyke Road, is a lively environment with float homes, marinas, boat building industries and riparian landscapes. A few off-road recreational trails have been developed, including the interior Queen's Canal Recreational Trail.
Queen's Canal Recreational Trail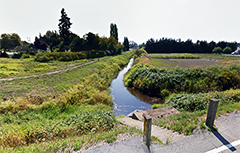 This is an interior recreational trail that follows Queen's Canal from the south end of Smith Drive in East Richmond, north to River Road and crosses Westminster Highway. The trail connects pedestrians and cyclists to the northern section of the East Richmond Recreational Trail and the North Arm of the Fraser River. At the north end of the trail there are great views towards Burnaby and mountains in the north and New Westminster in the east.
This trail crosses Westminster Highway and River Road, both are high traffic roadways. Please exercise caution when making these crossings.

Trail Maps 2015 East Richmond

Points of Interest
Riverport Entertainment Complex
A popular destination for entertainment and City operated recreational facilities such as the Watermania Aquatic Complex and Richmond Ice Centre. Future trails are being developed east of this site.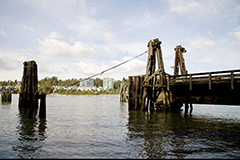 No 7 Road Fishing Pier
A restored former barge loading pier, this location situated along River Road, has an open grass area, woodlot and small beach. There is a washroom and limited parking is available.
Dyke Road / Fraserwood Recreational Trail
Walk or cycle past marina, houseboats, river industries, islands and woodlots. Limited sidewalks in this area. Exercise caution.
Toyota Park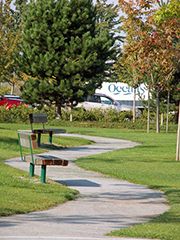 This 1.58 acres park in the Hamilton area is located just off Hwy 91 / East-West Connector in the Fraserwood Place commercial district. Features in the park include a half basketball court for lunchtime 3-on-3 and plenty of picnic tables and benches for lunch breaks.

Hamilton Dogs Off-Leash Park
This Hamilton area park location is designated a dogs off-leash areas. Dogs off-leash areas are an initiative by the City of Richmond and the Richmond Animal Protection Society (RAPS), in consultation with the community, to provide areas where responsible owners may exercise their dogs on or off-leash.