Scenic Cycling & Trail Recreational Routes
Sea Island / Middle Arm
The Middle Arm Recreational Trail, between No. 2 Road Bridge and 1 blk east of Lynas Lane will have periodic closures while the new No. 2 Road pump station is under construction. Please exercise caution when using this section of the Trail.
This 25 km route is both a driving and cycling route. Known as the the home of the Vancouver International Airport, Sea Island is also home to some significant natural areas. On this drive, you will pass by excellent airplane viewing spots, old agricultural fields that are now protected natural areas, a small boat launch area along the river, and into a regional park with incredible views in many directions. This is a great bird-watching route so be sure to bring a camera or binoculars for viewing. The cycling route uses a combination of on-street bike lanes, off-street pathways and low-volume local roads. You can bicycle this route in approximately 85 minutes, however, if you have some extra time add another 4 km each way to bike the jetty at Iona Beach Regional Park. On the jetty you are likely to see feeding eagles, herons and spectacular views of the Coastal and North Shore mountains.

Printable Route Map -

Scenic Route No. 4
Points of Interest
Flight Path Park
A popular plane watching location with site art reflecting airport activities. Picnic tables, children's play area and parking available.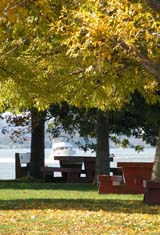 McDonald Beach Park
Boat launch, informal trails along the river and views of the river's working boats and activities. Picnic tables, barbeques, washrooms and parking available.

Important! This is NOT a swimming area due to strong currents and heavy use of waterway by commercial vessels.

Please note: A section of this area is also designated "Dogs Off-Leash", please respect the signed bylaw regulations regarding leashing/unleashing of your dogs.
For more information about dogs off-leash, please see Dogs Off-Leash Areas.
Iona Beach Regional Park
Features a unique, publicly accessible 4 km jetty for walking and cycling that extends on into the Strait of Georgia. An excellent birding area, with long sandy beaches. Picnic tables, washrooms and parking available.
Middle Arm Waterfront Greenway
Mature oak trees provide a beautiful backdrop to this urban waterfront and linear park with plazas, piers, accessible play environments, washroom facility and an amphitheatre. At the west end of this greenway, a public art piece was installed in 2002 along with a viewing platform and waterfall incorporated into the Hollybridge Pumpstation. For more information, please visit the Middle Arm Waterfront Park page.
Richmond Olympic Oval
Officially opened in December 2008, this breathtaking venue on the banks of the Fraser River is a hallmark of sustainability, accessibility and world-class sportsmanship. It is an international gathering place for wellness and sports excellence. Please visit the Richmond Olympic Oval page for more information about this exciting sports and recreation facility.
Dover Beach
From the viewing platform near the end of Lynas Lane, observe the busy seaplane harbour, marsh habitat, large willow trees and Swishwash Island. Skateboard Park is located across the street and has parking available.