Nature Park
About the Nature Park
Nature House & Park Hours
Nature House: 9:00am-5:00pm, admission by donation
Nature Park Trails: Open from dawn until dusk.
Holiday closures: Nov 11, Dec 25, 26 and Jan 1

Nature Park Brochure


Self Guided Nature Walk Brochure
Nature Park
The Richmond Nature Park consists of 200 acres of the raised peat bog habitat that once covered large portions of Lulu Island. Four walking trails totalling 5 kilometres provide visitors the chance to encounter plants and animals in bog, forest and pond habitats. The shortest trail, an elevated boardwalk around the park pond, is wheelchair accessible. All other trails are soft-surfaced with wood chips and are wellmarked. A free trail guide is available in the Nature House.

The park is always changing. In spring, visitors can see and hear the territorial fights of hummingbirds as bog flowers bloom below. Summer days are long and the trails are ideal for an evening stroll. Autumn brings owls, northern migratory birds and spectacularly coloured foliage. In winter, visitors can hear varied thrushes and see winter birds at the feeders or follow animal tracks in the snow.
Park Usage Guidelines
The park is a very fragile environment. Dogs and other pets are not permitted and visitors are requested to remain on the marked trails. No plants, plant parts or animals may be removed from the park. For personal safety and the health and safety of wildlife, do not attempt to feed the animals.
Nature House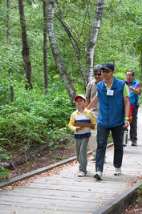 This interpretive centre located at the Nature Park entrance features interactive displays and games about the park, the bog and other aspects of nature. There are activity kits, an active beehive, a small collection of live animals and a gift shop.

The Nature House is open daily and an on-site naturalist is available to answer questions about nature throughout Richmond.

All facilities and programs will meet strict health and safety guidelines as set out by local and provincial health authorities, and activities may be increased or decreased based on demand and public safety. To further support the public and staff, masks must be worn in all indoor City-operated facilities.
Learn about our School Programs
Hydrogeological and Biophysical Assessment at the Nature Park
Starting spring 2021, Hemmera Envirochem Inc. is undertaking a hydrogeological and biophysical assessment of the Richmond Nature Park. The last comprehensive study of this area was completed in 2008, and the City is seeking an update to inform future planning and management efforts. The main objectives of the project are:
To provide an improved understanding of surface and groundwater systems, including seasonal and longer term changes driven by climate change and bog succession, and how these will affect the bog ecosystem;
To provide an improved understanding of the current bog ecosystem, including its health, extents and long-term viability;
To provide an improved understanding of current flora and fauna, including their distributions and the presence and effect of invasive species; and
To provide recommendations for long-term planning in order to preserve a healthy bog ecosystem.
This effort is being led by the City's Parks Services Department and is ongoing until summer 2022. During this time, visitors may encounter field staff conducting work. Please be respectful and maintain a safe distance from any equipment. Email parks@richmond.ca or call 604-244-1208 for any questions about the study.
Staff
Nature Park Coordinator: Kristine Bauder
Community Facilities Programmer: Richard Kenny
Community Facilities Coordinator: Angela Soon
For other programs, events and service listings refer to Fitness Schedules and Fees, 55+/Seniors Activities, Youth Activities, Parks Events & Activities, and the Calendar of Community Events.

For additional Richmond Nature Park information click on the links below: