Nature Park
About the Nature Park
Upcoming Events & Programs
Check out this season's
events and programs
at Richmond Nature Park.
Facility Hours
Nature Park: 7:00am to sunset daily. Admission is free.
Nature House: 9:00am-5:00pm daily. Closed December 25, 26, January 1 and November 11. Admission is by donation.

Nature Park Brochure


Self Guided Nature Walk Brochure
Nature Park
The Richmond Nature Park consists of 200 acres of the raised peat bog habitat that once covered large portions of Lulu Island. Four walking trails totalling 5km provide visitors the chance to encounter plants and animals in bog, forest and pond habitats. The shortest trail, an elevated boardwalk around the park pond, is wheelchair accessible. All other trails are soft-surfaced with wood chips and are well marked. A free trail guide is available in the Nature House.

The park is always changing. In spring, visitors can see and hear the territorial fights of hummingbirds as bog flowers bloom below. Summer days are long and the trails are ideal for an evening stroll. Autumn brings owls, northern migratory birds and spectacularly coloured foliage. In winter, visitors can hear varied thrushes and see winter birds at the feeders or follow animal tracks in the snow.

Park Usage Guidelines
The park is a very fragile environment. Dogs and other pets are not permitted and visitors are requested to remain on the marked trails. No plants, plant parts or animals may be removed from the park. For your own safety and the health and safety of wildlife, please do not attempt to feed the animals.
Nature House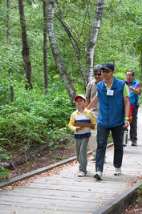 This interpretive centre located at the Nature Park entrance features interactive displays and games about the park, the bog and other aspects of nature. There are activity kits, an active beehive, a small collection of live animals and a gift shop.

The Nature House is open daily and welcomes questions about nature throughout Richmond.
Staff
Nature Park Coordinator:

Kristine Bauder

Community Facilities Programmer:

Richard Kenny

Community Facilities Coordinator:

Angela Soon
For other programs, events and service listings refer to Fitness Schedules and Fees, 55+/Seniors Activities, Youth Activities, Parks Events & Activities, and the Calendar of Community Events.

For additional Richmond Nature Park information click on the links below: