Parks
Dogs In Parks
Public playgrounds, sport fields, tennis, basketball and volleyball courts, skate parks, bike parks, lacrosse boxes and outdoor fitness amenities are closed until further notice.

Parks and trails remain open, however please maintain physical distancing, avoid gathering in groups and practice frequent hand washing.

The majority of public washrooms remain open and are frequently cleaned and maintained. See Affected City Services & Facilities for details and maps.
The following Dogs Off-Leash Areas are temporarily closed due to COVID-19:

The dogs off-leash areas above have been closed to maintain adequate social​ distancing (min. 2 metre gap) as recommended by public health.

Please note: additional dogs off-leash areas may be added to the above list as needed.

Dogs Off-Leash Areas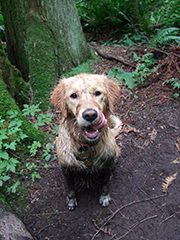 The designation of dogs off-leash areas is an initiative by the City of Richmond and the Regional Animal Protection Society (RAPS), in consultation with the community, to provide areas where responsible owners may exercise their dogs on or off-leash.
Responsible Owners
Dogs must be kept under control by their owners at all times.
Stoop and scoop: clean up after your dog.
Dog owners must carry a leash at all times.
All dogs must be currently and visibly licensed.
Dog owners must maintain effective verbal control of their dogs and always be able to see their dog when off the leash.
Any dog exhibiting aggressive behaviour must be leashed immediately.
Dog licences can be purchased online or in person at Richmond City Hall. For more information, call our Community Bylaws staff at 604-276-4345 or email bylawrequest@richmond.ca .
To report animal cruelty, contact the BC SPCA at 604-879-7343.
Designated Dogs Off-Leash Locations
The following locations are available for Off-Leash activities:
Dog Off-Leash Map and Brochure
For a complete and updated map showing designated off-leash locations, view the PDF below and print a copy to keep in your car for quick reference.

Dog Off-Leash Areas Brochure