Parks
Dogs In Parks
Dogs Off-Leash Areas

UPDATE (Aug 24, 2018): McDonald Beach dogs off-leash area has reopened following a week long closure due to a fuel spill west of the park. Thank you for your patience.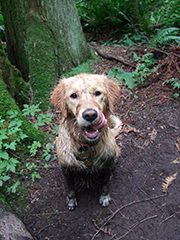 The designation of dogs off-leash areas is an initiative by the City of Richmond and the Regional Animal Protection Society (RAPS), in consultation with the community, to provide areas where responsible owners may exercise their dogs on or off-leash.
Responsible Owners
Dogs must be kept under control by their owners at all times.
Stoop and Scoop: clean up after your dog.
Dog owners must carry a leash at all times.
All dogs must be currently and visibly licensed.
Dog owners must maintain effective verbal control of their dogs and always be able to see their dog when off the leash.
Any dog exhibiting aggressive behaviour must be leashed immediately.
Dog licences can be purchased online or in person at Richmond City Hall. For more information, please call our Community Bylaws staff at 604-247-4633 or email doglicence@richmond.ca.
To report animal cruelty, please contact the BC SPCA at 604-879-7343.
Designated Dogs Off-Leash Locations
The following locations are available for Off-Leash activities:
McDonald Beach Park

Steveston Community Park - beside the fenced baseball diamond
No. 3 Road Waterfront Park - South foot of No. 3 Road along South Dyke Trail
Woodwards Slough
Shell Road and Horseshoe Slough Trails
East Richmond/Hamilton Area - along Thompson Road
Aberdeen Neighbourhood Park - at Hazelbridge Way and Sweet Ave

NEW!

McCallan Park
Corner of Elmbridge Way and Alderbridge Road

(temporary)

South Arm Community Park
Garden City Park - along Granville Avenue, near parking area

(temporarily closed for construction)

Please note: the Garden City Park dog off-leash area is currently being renovated and will remain closed during construction. Work is anticipated to be completed this fall.
Dog Off-Leash Map and Brochure
For a complete, updated map showing designated off-leash locations, please view the PDF below and print a copy to keep in your car for quick reference to the Dogs Off-Leash areas near you.

Dog Off-Leash Areas Brochure