Parks, Recreational Trails and Cycling Overview
Public Covered Outdoor Space
Public Covered Outdoor Space
If you are looking for ways to get outside this fall and winter while staying dry, the City has seven outdoor shelters that are available for informal public use, which are located at the following park sites: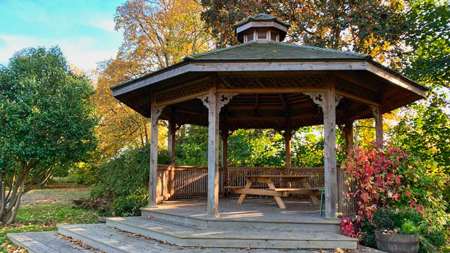 Roof overhangs and extensions at the Minoru Centre for Active Living, Richmond Library and Cultural Centre, Minoru Arenas, Steveston Tram, Richmond City Hall, Brighouse Park concession, and Cambie Community Centre offer additional informal outdoor sheltered public space. Planning for new outdoor sheltered public space at London/Steveston Park and Tait Waterfront Park is currently underway and these shelters are expected to be installed in 2021.
As per the City's Public Parks and School Grounds Regulation (Bylaw No. 8871), please be reminded that these sites are open to the public between the hours of 5:00am and 11:00pm, or as otherwise posted. Please be respectful of neighbours by keeping noise to a minimum and placing waste in receptacles.