Parks Programs
Events and Activities
Parks Programs staff and community partners plan, coordinate and facilitate many events throughout the year to provide opportunities for Richmond residents and visitors to learn about and connect with nature, urban wildlife and the local environment.
Special Events
Please note that dates, times and rates are subject to change. For a full listing of events, visit the Calendar of Events page.
A Day for the Birds
Richmond Nature Park
Date: Sunday, Dec 10, 2017
Time: 11:00am - 3:00pm
Drop-in for a tour of the park's wildlife garden and learn how to make a bird's garden habitat with responsible feeding practices.
All ages welcome. Admission by donation.
Longest Night
Richmond Nature Park
Date: Saturday, Dec 16, 2017
Time: 11:00am - 4:00pm
Celebrate the longest night in nature! Create lanterns to light up the night sky, write your wishes on paper to then toss in the fire to set them free and decorate a wildlife tree to help birds survive the cold winter. Enjoy face painting, seasonal crafts and roasting marshmallows. With a donation, you can take home a festive evergreen swag to decorate your door. NEW! Jingle Bell Market: purchase unique and interesting, nature-related gifts from local artisans and vendors. Buy freshly-made, holiday cake pops while sampling festive teas and delicious kombucha!
All ages welcome. Admission by donation. 
Nature Detectives 
Richmond Nature Park
Date: Wednesday, Dec 27 - Friday, Dec 29 (Registration barcode #2038638)     Tuesday, Jan 2 - Friday, Jan 5 (Registration barcode #2038688)
Time: 9:00am - 3:00pm
Spend a week away from school having fun and learning about the outdoor environment with a new nature theme each day. Ages 6 - 12 years. Registration required.
Cost: $96/3 sess (Dec 27 - 29) | $128/4 sess (Jan 2 - 5)

Richmond Nature Park Location Map


Terra Nova Rural Park Location Map
Partners for Beautification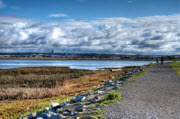 The City of Richmond actively supports park, trail, street, and natural area clean-ups by local businesses and community organizations year-round through the Partners for Beautification program. This program provides an opportunity for residents to become actively involved in the beautification and stewardship of their community by adopting public spaces and keeping them clean and green.
Partners for Beautification volunteers demonstrate the power of working together to make a difference in our shared environment. For more information, visit Partners for Beautification.