Parks Programs
Events and Activities
Parks Programs staff and community partners plan, coordinate and facilitate many events throughout the year to provide opportunities for Richmond residents and visitors to learn about and connect with nature, urban wildlife and the local environment.
Special Events
Please note that dates, times and rates are subject to change. For a full listing of events, visit the Calendar of Events page.
Once Upon a Pumpkin
Richmond Nature Park
Date: Daily, October 13 - 31
Time: 9:00am - 5:00pm
Come explore the Nature House and learn about Halloween's origins in nature.
All ages. FREE activity!

Wild Things
Richmond Nature Park
Date: Saturday, October 27 & Sunday, October 28
Time: 5:30 - 8:30pm
Follow a trail of candlelit pumpkins to discover what goes bump in the night. Meet the creatures that make Halloween thrilling! Enjoy some spooky fun, storytelling, and Bog BOOgie family dance at this Halloween-inspired event. An adult must accompany children. Hop on the Pumpkin Express Shuttle from Cambie Secondary School or City Hall and ride to the Nature Park!
All ages. $6/Adult (13+ yrs) | $4/Child (3-12 yrs) | Free for 2 yrs and under
Mushroom Show
Richmond Nature Park
Date: Sunday, November 4
Time: 11:00am - 4:00pm
Discover the fungus among us as the Vancouver Mycological Society presents a show of local autumn fungi. Bring mystery mushrooms for identification.
All ages. Admission by donation.
A Day for the Birds
Richmond Nature Park
Date: Sunday, November 25
Time: 11:00am - 3:00pm
Drop-in for a tour of the park's wildlife garden and learn how to make a bird's garden habitat with responsible feeding practices.
All ages. Admission by donation.

Jingle Bell Market
Richmond Nature Park
Date: Sunday, December 2
Time: 11:00am - 4:00pm
Complete your last minute holiday shopping while supporting local artisans and vendors. Unique and interesting, nature-related gifts will be available for purchase.
All ages. Prices vary.

Richmond Nature Park Location Map

Terra Nova Rural Park Location Map
Partners for Beautification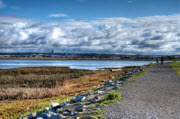 The City of Richmond actively supports park, trail, street, and natural area clean-ups by local businesses and community organizations year-round through the Partners for Beautification program. This program provides an opportunity for residents to become actively involved in the beautification and stewardship of their community by adopting public spaces and keeping them clean and green.
Partners for Beautification volunteers demonstrate the power of working together to make a difference in our shared environment. For more information, visit Partners for Beautification.