Parks Programs
Events and Activities
Parks Programs staff and community partners plan, coordinate and facilitate many events throughout the year to provide opportunities for Richmond residents and visitors to learn about and connect with nature, urban wildlife and the local environment.
Special Events
Please note that dates, times and rates are subject to change. For a full listing of events, visit the Calendar of Events page.
Exotic Reptile Show
Richmond Nature Park
Date: Mar 10 - 11, 2018
Time: 11:00am - 4:00pm
Meet snakes, lizards, and geckos at this show presented by the West Coast Society for the Protection and Conservation of Reptiles.
All ages welcome. Admission by donation.

​SPRING BREAK CAMP
Polliwog Preschool
Richmond Nature Park
Date: Mar 19 - 23, 2018 | Mar 26 - 29, 2018
Time: Choice of morning (9:30am - 12:00pm) or afternoon (1:30pm - 4:00pm)
Learn something new every day by exploring outside, playing games, making crafts and finding out about amazing animals! Ages 4-6 yrs.
Program cost: $75/5 sess (Mar 19 - 23) | $60/4 sess (Mar 26 - 29)
To register, please call 604-718-6188

Richmond Nature Park Location Map

Terra Nova Rural Park Location Map
Partners for Beautification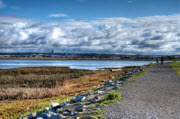 The City of Richmond actively supports park, trail, street, and natural area clean-ups by local businesses and community organizations year-round through the Partners for Beautification program. This program provides an opportunity for residents to become actively involved in the beautification and stewardship of their community by adopting public spaces and keeping them clean and green.
Partners for Beautification volunteers demonstrate the power of working together to make a difference in our shared environment. For more information, visit Partners for Beautification.