Parks Programs
Events and Activities
Parks Programs staff and community partners plan, coordinate and facilitate many events throughout the year to provide opportunities for Richmond residents and visitors to learn about and connect with nature, urban wildlife and the local environment.
Special Events
Please note that dates, times and rates are subject to change. For a full listing of events, visit the Calendar of Events page.
Once Upon a Pumpkin
Richmond Nature Park
Date: Daily, Oct 15 - Oct 31, 2017
Time: 9:00am - 5:00pm
Come explore the Nature House and learn about Halloween's origins in nature.  
All ages welcome. Free! 
Wild Things
Richmond Nature Park
Date: Saturday, Oct 21, 2017 & Sunday, Oct 22, 2017
Time: 5:30pm - 8:30pm
Follow a trail of jack-o'-lanterns to discover what goes bump in the night. Meet the twilight creatures that make Halloween fun and a little bit scary! Kick up your heels; dance to The Monster Mash, Thriller and more. An adult must accompany children. Park at Cambie School and ride on the Pumpkin Express to the Nature Park.
Cost: $5/adult, $3/child
Wild Mushroom Show
Richmond Nature Park
Date: Sunday, Nov 5, 2017
Time: 11:00am - 4:00pm
Discover the fungus among us as the Vancouver Mycological Society presents a show of local autumn fungi. Bring mystery mushrooms for identification.
All ages welcome. Admission by donation. 
Gem and Mineral Show
Richmond Nature Park
Date: Sunday, Nov 12, 2017
Time: 11:00am - 4:00pm
The Richmond Gem and Mineral Society present a display of gems and minerals; demos and interactive games. 
All ages welcome. Admission by donation. 
Fraser Valley Bald Eagle Festival Trip 
Richmond Nature Park
Date: Saturday, Nov 18, 2017
Time: 9:00am - 6:00pm
Drawn to the area by the millions of spawning salmon that travel up the Fraser River, witness thousands of bald eagles in one location. Bird experts, biologists and rangers answer questions and lead nature walks with a visit to the Inch Creek Hatchery at the end of the day. Bring or purchase lunch. Dress for the weather and wear comfy shoes. Price includes transportation. Ages 18+ yrs.
Cost: $35/1 sess. Registration barcode #2063888

Richmond Nature Park Location Map


Terra Nova Rural Park Location Map
Partners for Beautification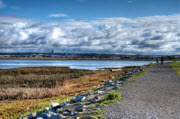 The City of Richmond actively supports park, trail, street, and natural area clean-ups by local businesses and community organizations year-round through the Partners for Beautification program. This program provides an opportunity for residents to become actively involved in the beautification and stewardship of their community by adopting public spaces and keeping them clean and green.
Partners for Beautification volunteers demonstrate the power of working together to make a difference in our shared environment. For more information, visit Partners for Beautification.