Planning & Strategies
2010 Richmond Trail Strategy
Linking People, the Community and Nature

The 2010 Richmond Trail Strategy was adopted by Council in Fall 2004. The overall vision is that: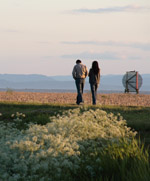 "Richmond's trail system will be a vibrant network of interconnected trails, greenways, blueways and cycling routes that will support the City's commitment to creating a livable, attractive and healthy community. It will provide a variety of exciting opportunities for walking and cycling that will link people to each other, to their community and to Richmond's unique natural and cultural heritage."
Over the years the concept of a trail system has expanded to include cycling routes, walkways, park pathways, expanded sidewalks and boulevards, greenways, blueways and rural roadways. The new proposed trail network is one that encompasses many different walking and cycling opportunities and works towards creating a walkable community in Richmond.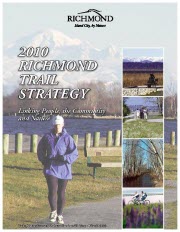 2010 Richmond Trail Strategy
The Richmond Trail Strategy is a comprehensive document that focuses on seven key areas ranging from the
Vision and Principles
of the strategy to a comprehensive
Implementation Plan
. Select from the following list of PDF documents to review the strategy area of interest:
For more information on the 2010 Richmond Trail Strategy, contact:

Parks Planning, Design and Construction, Community Services Division
Phone: 604-244-1208
Email: parks@richmond.ca