Design & Construction
Current Projects
2020-2021 Capital Project Highlights
Parks Planning, Design and Construction
The following design and construction projects are currently underway, or planned for development, in the next 12 to18 months.

Note: The actual commencement of construction for all capital projects may be adjusted to align with the status of the COVID-19 response.
For detailed project information including maps and concept plans, visit the Parks Planning, Design and Construction Storymap.
Garden City Lands
For more information about the development of the Garden City Lands Legacy Landscape, visit the Garden City Lands page.
Railway Bike Skills Park
This project is proposed to be located in a vacant open space on the west side of Railway Avenue at Granville Avenue. A bike park was identified in the original Railway Greenway concept plan at this location. The project will focus on beginner and intermediate riders thus complementing the more advanced terrain at the Garden City Bike Terrain Park.
The scope of construction will include the relocation of existing infrastructure, site preparation, site grading, bike park features (both timber and landforms including a pump track, ramps, teeter-totters and other features which teach and enhance essential skills), perimeter fencing, a drinking fountain, signage, plantings and importation of natural features such as boulders, logs and stumps.
Located immediately adjacent to the Railway Greenway at Granville Avenue, potential park users can easily access the Bike Park using the existing Greenway. It is also located near Burnett High School and Thompson Community Centre; the park provides for potential programming opportunities organized by these facilities. Construction of this bike park supports goals and objectives set out in the Community Wellness and Parks and Open Space Strategies by providing outdoor physical activity spaces connected to existing trail networks and located near existing recreation facilities.
Mountain and BMX biking is an ongoing popular sport for young people. Current trends in the sport dictate that in order to safely enjoy the sport, regularly practicing essential bike handling techniques and skills are important to develop one's abilities. As the sport grows, additional bike parks are required to respond to community demand.
Public Consultation: Winter 2021
The City has engaged Hoots Inc., a local bike park design and construction company. Hoots Inc. designed and constructed the Terrain Bike Park at Garden City Park and will be assisting Parks staff with the design and construction of the Railway Bike Park.

Beginning February 17 thru to March 28, 2021 visit the LetsTalkRichmond project page to review the proposed concept plans, provide feedback by completing the online survey and share your ideas by uploading photos and/or drawings of what YOU would like to see at the new bike park.
Virtual Public Open House
If you would like to attend the virtual public open house being held on Wednesday, March 10, please email parks@richmond.ca and put "Railway Bike Park Open House" in the subject line. We will send you a link to the meeting in a separate email.
At the virtual meeting, you will meet the Parks and Hoots design team, hear more about the project and review the three concepts with the designers.
What's Next?
After the public input period closes on March 28, Parks Planning staff will review the concepts and comments we've received with the Hoots team. A final concept will be presented for review and comments.
We hope to begin construction / break ground in early summer. Our goal is to have the Bike Park open this summer.

For continued updates regarding this project, please visit this page and the Let's Talk Richmond project page.
Back to Top

Aberdeen Neighbourhood Park - Phase 2
Construction of Aberdeen Park – Phase 2 is anticipated to begin in spring 2021. This second phase will consist of four main elements:
1. Zhengzhou Exchange Garden
2. All ages playground
3. Stage canopy
4. Public washroom

Downloadable PDF

In 2017, the City of Richmond participated in the China International Garden Expo. Aberdeen Park was identified as the site of a reciprocal exchange garden, based on a concept provided by the City of Zhengzhou, China. Inspired by a 'Zen Garden' motif, it seeks to provide immersive spaces for quiet contemplation and passive recreation. The proposed materials – both hard and softscape – are reminiscent of those endemic to Zhengzhou and China such as bamboo, stone, native plants, etc. Feature elements include an enclosed structure to provide shelter and house passive recreation activities (e.g. tai chi and yoga), an ephemeral water feature, seating walls, and stone paving, among others.

In the fall of 2018, an open house event for the All Ages Playground was held at Aberdeen Centre. Visitors were asked to identify the types of features they would like to see in the new playground. Feedback was compiled based on an interactive 'Dotmocracy' exercise using open house boards, and survey results.

The Pavilion will accommodate park programming during inclement weather and provide sufficient cover for a range of community events – e.g. concerts, plays, cultural events, etc.
The all ages playground will fulfill the following criteria:
Provide a range of opportunities for sensory and motor skills development
Maximize inclusivity
Provide creative and imaginative play experiences
Incorporate nature play including elements such as boulders, timbers, hardy vegetation, etc.
Ensure safety and a high degree of visibility
Be durable, low maintenance and resistant to vandalism
Back to Top

Alexandra Neighbourhood Park / Greenway
The first phase of construction of Alexandra Neighbourhood Park is expected to commence in spring 2021. Based on resident feedback from open house events in 2017, the park will strive for an ecological focus while accommodating the expansion of the geothermal Alexandra District Energy Utility. The design aims to retain existing trees, improve accessibility and introduce the following recreational features and contemplative spaces:
All ages playground;
Table tennis;
Basketball court;
Off-leash dog park;
Seasonal rain garden;
Lawn amphitheatre;
Public art 'Pergola Garden' structure; and
Wildflower meadow and pollinator-friendly plant beds.

Downloadable PDF of park plan
The park has the potential to contribute ecosystem services on a broader scale. It will eventually link two sections of the Alexandra Greenway to the south with an existing portion to the north. Both the park and greenways will have extensive planting focused on native tree, shrub, and groundcover species to create a contiguous ecological habitat corridor between Cambie Road and the Garden City lands.
Back to Top

Minoru Lakes Renewal
Originally designed in the 1970s, the Minoru Park Lakes District is in need of renewal to better respond to expanding community needs, reduce reliance on City resources (e.g. potable water and maintenance staff time) and enhance ecological benefits. Based on feedback received during public consultation for the Minoru Park Vision Plan, Minoru Lakes will be retained as a key park feature similar in size and character as they are today.

The vision for the Minoru Lakes District is:
Protect and enhance the Lakes District as a place to connect with nature, be close to the water's edge, and seek respite from the surrounding City Centre while also improving function, environmental benefits and reducing maintenance requirements.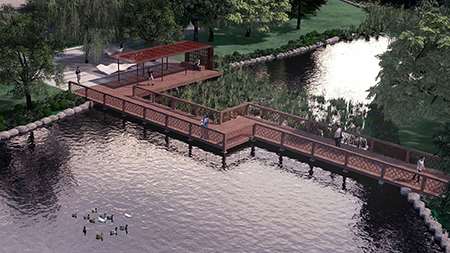 Detailed design for the renewed Minoru Lakes District is currently underway and will be completed by the end of 2020. Construction is expected to begin in 2021 depending on COVID-19 related impacts.

Additional information about the project will be shared with the public before construction begins.
Back to Top

London / Steveston Neighbourhood Park
In 2015, the City of Richmond acquired five acres of the former Steveston Secondary School site. This additional park space presented a unique opportunity to engage the public and surrounding neighbourhoods towards the development of a master plan for the west side of London - Steveston Park. The larger City-owned portion of the park site (a portion of the park site is owned by School District No 38) is approximately eighteen acres and features a softball complex, four ball diamonds, a small playground and seating area and a caretaker's suite with change rooms and public washrooms.
A two-phase public consultation process took place and the resulting final concept plan was approved by Council in May 2015.


Park enhancements are being implemented in phases:
The first phase was completed in 2018 and included greenway connections to No. 2 Road.
The second phase included new pathways, trees and landforms and was completed in 2019.
The third phase, which is well underway with completion expected in spring 2021, includes a renewed playground, half-court basketball plaza, portable picnic tables and a canopy.
Future phase of works to include an off-leash dog park.

Downloadable PDF of park plan
Back to Top

Minoru Oval Artificial Turf (AT) Field Replacement - COMPLETED!
Minoru Oval artificial turf field was originally installed in 2008. The projected lifespan of synthetic sports fields is between eight to twelve years depending on the usage and maintenance. The field is one of the busiest artificial turf fields in Richmond and is booked by organized groups for up to 38 hours per week during the peak fall/winter season. When not being used by organized sports, this popular site is open to the public for a variety of recreational sports and activities. The field is tested annually for shock attenuation performance, known as the G-Max rating, and is currently reaching the limit of what is suitable for the operation of an artificial turf field.
Minoru Oval field serves as a multi-use open space that accommodates sports, track meets, special events and tournaments. Its location between the Minoru Ice Arena, the Minoru Centre for Active Living, and the running track makes it one of the most active destinations in the City.
Back to Top

Riverport and Cook Community Gardens - COMPLETED!
In March 2019, Council supported the creation of new community garden plots to address the demand by Richmond residents for access to space for food production and gardening. Cook Neighbourhood Park will see approximately 40 new plots and Riverport Waterfront will see 15 new plots.
The infrastructure for the gardens, including site preparation, a water connection, perimeter fencing and gate, garden shed, gravel pathway and signage will be provided by the City. Through a partnership with the Richmond Food Security Society (RFSS), the Society will administer the community garden sites as well as construct the garden beds, provide soil and garden tools through their own funding efforts. RFSS will also oversee the ongoing management of the gardens including administering the wait list for new gardeners.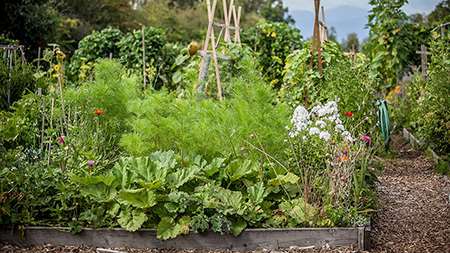 Community gardens are a shared green space with individual and group garden plots which are maintained by community garden members to grow food, flowers, and other plants. The gardens provide low-barrier opportunities for residents of all ages and abilities to not only cultivate plants, but also meet new friends, share knowledge, and build a sense of community. The food, flowers, and other plants grown in each plot belong to the registered gardeners, and cannot be used or sold for any commercial purposes.
Back to Top