Design & Construction
Current Projects
Parks Capital Projects Highlights

Use this interactive map to explore some of the major Parks Capital Projects being worked on to advance the City's strategies. You can interact with projects that interest you through the map or the links.

Explore the 2021 Parks Capital Projects Highlights

Watch this short overview video to learn how the interactive map works.
To view previous Park Capital Story Maps, visit the link below:

Note: The actual commencement of construction for all capital projects may be adjusted to align with the status of the COVID-19 response.
Garden City Lands
Visit the Garden City Lands page for more information about the development of the Garden City Lands Legacy Landscape.
Railway Bike Park
The Railway Bike Park is now under construction. The final design scheme is based on Option B with the addition of a paved pump track and additional technical skills and obstacles not shown in the concept shown during the public consultation process. Expected duration of construction is approximately two months with the bike park tentatively opening in early summer 2021.

Concept Plan
Many thanks to those who contributed with comments, feedback and survey responses to the public consultation process.
Back to Top

Aberdeen Neighbourhood Park - Phase 2
Construction of Aberdeen Park - Phase 2 is anticipated to begin in spring 2021. This second phase will consist of four main elements:
1. Zhengzhou Exchange Garden
2. All ages playground
3. Stage canopy
4. Public washroom

Downloadable PDF

In 2017, the City of Richmond participated in the China International Garden Expo. Aberdeen Park was identified as the site of a reciprocal exchange garden, based on a concept provided by the City of Zhengzhou, China. Inspired by a 'Zen Garden' motif, it seeks to provide immersive spaces for quiet contemplation and passive recreation. The proposed materials – both hard and softscape – are reminiscent of those endemic to Zhengzhou and China such as bamboo, stone, native plants, etc. Feature elements include an enclosed structure to provide shelter and house passive recreation activities (e.g. tai chi and yoga), an ephemeral water feature, seating walls, and stone paving, among others.

In fall 2018, an open house event for the All Ages Playground was held at Aberdeen Centre. Visitors were asked to identify the types of features they would like to see in the new playground. Feedback was compiled based on an interactive 'Dotmocracy' exercise using open house boards, and survey results.

The Pavilion will accommodate park programming during inclement weather and provide sufficient cover for a range of community events – e.g. concerts, plays, cultural events, etc.
The All Ages Playground will fulfill the following criteria:
Provide a range of opportunities for sensory and motor skills development
Maximize inclusivity
Provide creative and imaginative play experiences
Incorporate nature play including elements such as boulders, timbers, hardy vegetation, etc.
Ensure safety and a high degree of visibility
Be durable, low maintenance and resistant to vandalism
Back to Top

Alexandra Neighbourhood Park / Greenway
The first phase of construction of Alexandra Neighbourhood Park is expected to commence in spring 2021. Based on resident feedback from open house events in 2017, the park will strive for an ecological focus while accommodating the expansion of the geothermal Alexandra District Energy Utility. The design aims to retain existing trees, improve accessibility and introduce the following recreational features and contemplative spaces:
All Ages Playground;
Table tennis;
Basketball court;
Off-leash dog park;
Seasonal rain garden;
Lawn amphitheatre;
Public art 'Pergola Garden' structure; and
Wildflower meadow and pollinator-friendly plant beds.

Downloadable PDF of park plan
The park has the potential to contribute ecosystem services on a broader scale. It will eventually link two sections of the Alexandra Greenway to the south with an existing portion to the north. Both the park and greenways will have extensive planting focused on native tree, shrub, and groundcover species to create a contiguous ecological habitat corridor between Cambie Road and the Garden City lands.
Back to Top

Minoru Lakes Renewal
Originally designed in the 1970s, the Minoru Park Lakes District is in need of renewal to better respond to expanding community needs, reduce reliance on City resources (e.g. potable water and maintenance staff time) and enhance ecological benefits. Based on feedback received during public consultation for the Minoru Park Vision Plan, Minoru Lakes will be retained as a key park feature similar in size and character as they are today.

The vision for the Minoru Lakes District is:
Protect and enhance the Lakes District as a place to connect with nature, be close to the water's edge, and seek respite from the surrounding City Centre while also improving function, environmental benefits and reducing maintenance requirements.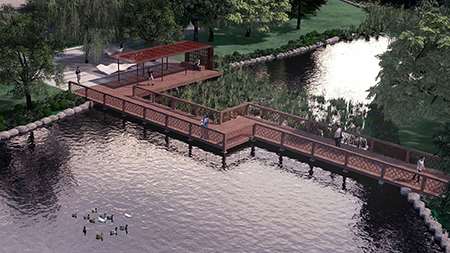 Detailed design for the renewed Minoru Lakes District is nearing completion. Construction is expected to start in spring 2022.
Additional information about the project will be shared with the public before construction begins.
Back to Top

Three NEW Community Gardens
Council is further supporting the creation of new community garden plots to address the demand by Richmond residents for access to space for food production and gardening and address community food security.
Cook Neighbourhood Park: 20 new plots


Building on the success of the 40 garden plots completed in 2020, 20 additional plots will be constructed north of the existing community garden. Cook Park is centrally located in the City Centre amongst medium and high density housing providing greenspace to grow food in the City.

Railway Greenway at Branscombe House: 40 new plots


Located along the Railway Greenway and adjacent to medium density development in the area, this proposed community garden will be located near the Branscombe House at the intersection of Railway Avenue and Steveston Highway. Residents will be able to access the proposed community garden either by bike or foot along the Greenway, public transit along Railway or by car with limited vehicular parking near Branscombe House. An existing fruit tree orchard and picnic table provide amenities for residents to enjoy future community garden as a neighbourhood gathering space.

Garden City Lands

will see approximately 200 new plots (subject to approval from the Agricultural Land Commission (ALC)).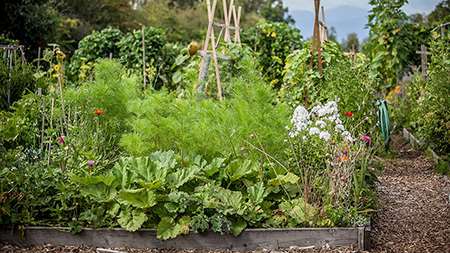 Community gardens are a shared green space with individual and group garden plots which are maintained by community garden members to grow food, flowers, and other plants. The gardens provide low-barrier opportunities for residents of all ages and abilities to not only cultivate plants, but also meet new friends, share knowledge, and build a sense of community. The food, flowers, and other plants grown in each plot belong to the registered gardeners, and cannot be used or sold for any commercial purposes.
Back to Top

Steveston Community Park - Dog Park Upgrades
The off-leash dog area at Steveston Community Park is planned to be upgraded in 2021.
The existing dog park will remain in its current location, and maintain separate, fenced areas for small and large dogs. Anticipated improvements include the addition of a drinking fountain, obstacles/play elements, seating, drainage, durable surfacing, and planting.

The City initiated the Dog Off-Leash Program in 1999, and Steveston Community Park was an early recipient of a temporary off-leash facility. In recent years there have been many requests from residents to address drainage issues, add seating, and improve the overall quality of the dog park, and this project will seek to address that feedback.
Ageing Infrastructure Replacement Program
Parks infrastructure include buried and above ground services (e.g., lighting and irrigation), trails, plazas, outdoor sports facilities, playgrounds, benches, and waterfront amenities. Asset inspection and maintenance is consistent with regulatory requirements and regional standards. Whenever possible, major repairs or retrofits are undertaken to extend the expected life duration of these assets.
At the end of an asset's useful life, upon determination that it still fulfills community need, Capital submissions are made for asset replacement. In 2021 proposed projects include:
Artificial Turf Field Replacements and Improvements


Synthetic fields enable year-round use and reduce operational loads. The projected lifespan of a synthetic field is between 8 and 12 years. Fields are tested annually for standard safety benchmarks and when fields exceed acceptable limits for safe operation they are recommended for replacement. Maintenance and replacement costs are partially offset by user fees collected through the Sports User Fee program.

Sport Court Crack Repairs and Resurfacing


Sport surfacing systems provide uniform, textured and coloured playing areas for safe and smooth play experience. Sport systems generally last between 5 to 10 years. Surfaces require renewal when court cracks and surface traction is no longer result in unsafe play.​

Storm Drainage Infrastructure Renewal


Underground assets include storm drainage infrastructure. Properly functioning drainage systems ensure the safe and accessible operations of parks. Drainage systems require renewal when site conditions have changed or when existing infrastructure has failed due to
Back to Top