Partners for Beautification
How to Volunteer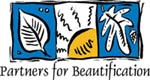 Volunteering in Richmond's park or trail systems is easy. In June 1998, the City launched Partners for Beautification Program and since then over 20 km of dyke trail have been adopted along with several streets and parks and the development of a community garden.
You don't need special skills

Your interests and abilities will be matched with available projects and areas for adoption. Recognition, support, tools and instruction are provided to make your volunteer experience in Richmond's open spaces as fun as possible.
What is involved in "adopting" an area?
Individuals, organizations, families, strata councils, sports teams, service clubs, committees and even a group of friends can become involved in activities including:
Litter collection on a street, trail or park
Preservation of plant or animal habitat
Sponsoring the cost of planting a flower bed or garden
Graffiti removal
Tree planting
Maintaining or creating cul-de-sac gardens
Is there a cost?

There is no cost to adopting an area other than a time commitment. Volunteer efforts can range from a one-time only basis to weekly or monthly. You set your schedule.
Businesses and organizations that want to make a financial contribution to helping preserve and enhance Richmond's open spaces are also encouraged to participate. A tidy parking lot and storefront is good for business and healthy for the community. Challenge your staff teams to donate some time or services. Together we can make Richmond a more livable city for everyone.
Take the business challenge. For

applications and more information, contact the Parks Program Coordinator at 604-247-4453.
City of Richmond Parks Department
5599 Lynas Lane
Richmond, BC V7C 5B2

Fax: 604-244-1242