Partners for Beautification
Adopt-A-Garden Program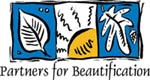 The City of Richmond's Adopt-A-Garden Program is an opportunity for the community to become involved in the maintenance and creation of existing and new garden areas in Richmond's open spaces and community parks. Richmond is known as the "Garden City" and the Adopt-A-Garden Program is one way to enhance and preserve that legacy.

The garden planting program would include:
Outlying areas
Parks
Roads and streets
Boulevards
Vacant City-owned lots and civic properties
The Adopt-A-Garden Program supports schools, strata councils, individuals, businesses and groups who are interested in adopting a garden in the city. Possibilities for garden adoption include:
Maintenance, general clean-up and beautification of existing gardens on public lands
Weed control
Wildflower planting
Annual and perennial planting and donation
Species specific planting
Enhancement and landscaping of existing garden areas
Development of a central community garden
Bus stop areas
Development of culturally significant gardens
This is only a partial list of the possibilities for this program.

Participants are rewarded with signage recognizing the volunteer commitment to maintain and/or create a garden area. All participants receive certificates of recognition from the City of Richmond along with volunteer training and varying levels of direction and assistance from City Parks Department staff. The City would prepare the areas for the participants, e.g. rototill before planting begins.

All participants are encouraged and assisted with the development of a regular maintenance and annual planting plan to ensure the success and appropriateness of the adopted garden area. Litter removal is also be a requirement of the Adopt-A-Garden Program.
For more information, contact the Parks Program Coordinator at 604-247-4453.