2021 News & Information
Winter on the Waterfront tours at Britannia Shipyards
29 November 2021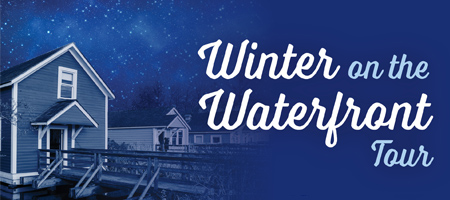 Listen closely this holiday season to hear the enchanting melodies of the classical violin, the Japanese tsugaru shamisen and the Chinese erhu on one of four Winter on the Waterfront tours at Britannia Shipyards National Historic Site. Offered on Friday, December 3 and December 10 at 7 p.m. and 8:30 p.m., tours combine local history and traditional music for an atmospheric journey into the past.
These 60-minute tours offer visitors the unique opportunity to take a personal guided tour through remarkable heritage buildings at Britannia Shipyards. Inside three of these buildings, visitors will experience live musical performances, reflecting the cultural traditions of the people who lived or worked in them.
In the Murakami House, Natalie Der, former concertmaster of the Richmond Delta Youth Symphony Orchestra, will play the violin just as Asayo Murakami once played the violin she carefully brought from Japan in 1929. Dressed in a winter kimono, Vancouver musician Noriko Kobayashi will draw upon her repertoire of folk music to play the tsugaru shamisen. Upstairs in the Chinese Bunkhouse where up to 100 men once slept in triple bunkbeds, renowned teacher Zong Cai Yang will play the two stringed erhu – an instrument with over 4,000 years of tradition in China.
Tickets for Winter on the Waterfront are $20 (+ GST). Tours are limited to 15 people and recommended for those eight years and older. Register online at www.richmond.ca/register or call 604-276-4300 (Monday-Friday, 8:30 a.m.-5 p.m.). Proof of vaccination is required.
Friday, December 3, 7 p.m. - Event ID #119338
Friday, December 3, 8:30 p.m. - Event ID #117261
Friday, December 10, 7 p.m. - Event ID #117266
Friday, December 10, 8:30 p.m. - Event ID #117254
The City of Richmond is fully committed to operating safely and working to ensure all COVID-19 Provincial Health Orders and recommendations are followed. Masks are required inside all buildings at Britannia Shipyards.
For more information on Winter on the Waterfront, visit www.richmond.ca/culture/sites/britannia/events.