2021 News & Information
Proof of vaccine requirements for City of Richmond
Updated: Nov 23, 2021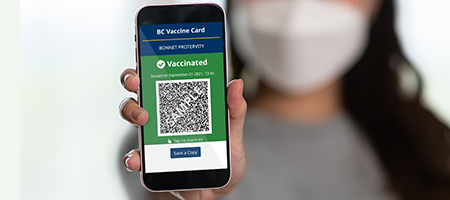 Proof of Vaccination Requirements
Proof of full vaccination is now required for participation in programs and services at City of Richmond Community Services facilities, in accordance with the PHO Order – Gatherings and Events.

Participants 12 years and older must show proof that they are fully vaccinated with their BC Vaccine Card. Individuals 19 years and older must also provide valid government photo ID.
Activities that do NOT require proof of vaccination for participation (subject to change):
Public programs in swimming pools
Programs or activities (registered or drop in) for children and youth only, including licensed Out of School Care programs
Programs or activities for adults (19 years and over) that do not involve physical activity (e.g. visual arts, music classes, languages, educational workshops)


Please note:

this does

not

apply to the Seniors Centre at Minoru Centre for Active Living
Parents dropping off and picking up children or youth from programs and activities
General access to common areas of Community Services facilities (e.g. washrooms, lounge areas)
Museum, Art Gallery and Heritage site visits
Library visits
Volunteers
Adult volunteers and parent helpers (12 years and over) in programs provided for children or youth are now required to provide proof of vaccination. This includes volunteers in Licensed Preschool and Out of School Care programs.
Spectators
Spectators (12 years and over) must provide proof of vaccination for programs, events or activities taking place at Community Services facilities.

These requirements are subject to change based on direction from the Provincial Health Officer (PHO). Visit gov.bc.ca/VaccineCard to get your BC Vaccine Card and for further information for international visitors or people from other provinces or territories.
The City of Richmond has been a leader in encouraging safe practices to reduce the impact of COVID-19. It was the first Lower Mainland municipality to mandate the wearing of masks in its facilities and encourages everyone to get vaccinated to enjoy the benefits of indoor and outdoor activity allowed under the Public Health Orders.

For updates on programs, services and activities in the City of Richmond, visit richmond.ca/covid19