2021 News & Information
Richmond launches Community Ideas Hub to reduce waste Waste
19 October 2021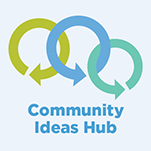 The City of Richmond today launched a Community Ideas Hub featuring ideas from residents on how to reduce household waste, including tips on how to repurpose materials, cut back on food waste and apply options to repair, trade or donate items instead of throwing them away. The new Ideas Hub and recently approved single-use plastic ban are designed to help reduce waste as part of supporting sustainable waste management and a circular economy.
"Recycling is important, but reducing waste overall is an essential part of responsible waste management and protecting our environment," said Mayor Malcom Brodie. "Our residents have some fantastic tips, and this new Ideas Hub makes it easier for all of us to learn from others and reduce our household waste."
The Community Ideas Hub aligns with the themes for this year's Waste Reduction Week (October 18 to 24), such as the importance of supporting a circular economy, ideas for repurposing textiles, leveraging the sharing economy to sell, trade or donate used items, simple tips to reduce food waste, and repairing items instead of throwing them away. For details, click on the Community Ideas Hub at richmond.ca/rethink.
Reducing single-use plastic waste and pollution is another goal for Richmond, as well as a theme for Waste Reduction Week 2021. The City's newly adopted Single-Use Plastic and Other Items Bylaw No. 10000 will ban foam food service ware, plastic straws and plastic checkout bags starting March 27, 2022. In the interim, the City is promoting reusable options in a broad communications campaign. Also during Waste Reduction Week, to support local businesses with transitioning out of single-use plastics, the City is partnering with the Richmond Chamber of Commerce to host a vendor trade show highlighting accepted alternatives. For details on the single-use plastic ban and business resources, visit richmond.ca/singleuse.
The waste reduction ideas shared by the community were collected through the Rethink Waste Think Tank community engagement campaign on Let's Talk Richmond. Future outreach includes hosting virtual Rethink Waste workshops to raise awareness about the tips in the Ideas Hub and the single-use plastic ban, with a goal to help residents reduce waste.
Details of other initiatives to reduce waste and create a safer, more sustainable environment can be found in the City's Sustainability Progress Report 2015-2020, available at richmond.ca/sustainability/towards/citydoing.