2021 News & Information
City of Richmond encourages public input on new Railway Bike Park design
17 February 2021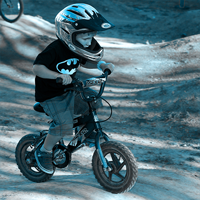 The planning for the City of Richmond's Railway Bike Park is underway and the public is encouraged to participate. From now until Sunday, March 28, 2021, the City will be actively seeking input to ensure this bike park offers an exhilarating experience for entry- and novice-level riders.
"Located at the junction of Railway and Granville Avenues immediately adjacent to the Railway Greenway, this new bike park will provide yet another destination along the already popular Greenway," said Mayor Malcolm Brodie. "Where parents are looking to keep kids busy with outdoor activities, and youth may want to try something new, the construction of this unique recreational park could not come sooner. It will be a place for learning new skills, getting fit and spending time outdoors."
Here are the ways the public can participate in shaping the design of this new bike park:
Visit LetsTalkRichmond.ca until Sunday, March 28 to learn about the concepts, share ideas and comments via a virtual ideas board and complete the online survey.
Attend an online virtual open house on Wednesday, March 10 to talk with Parks Planning staff and representatives from Hoots Ltd., the design and construction consultant team hired by the City to build the bike park. To request a link to this virtual open house, please email parks@richmond.ca by Monday, March 8.
The City is hoping for enthusiastic public input to help determine the final design, including a wide variety of bike skills features. This bike park will respond to the community's present and future needs.
The Railway Bike Park will provide entry- and novice-level riders an opportunity to develop their mountain biking skills in a welcoming and challenging environment. It is intended to be the first step for new riders wanting to get into this sport. The proposed facility will include a combination of pump track, wood and rock bike skills features and other elements to help riders learn and develop new skills while still providing a challenge. A natural progression from the Railway Bike Park is Richmond's more advanced Terrain Park at Garden City Park, which opened in 2014.