2021 News & Information
New museum exhibit explores Richmond's changes over time
16 September 2021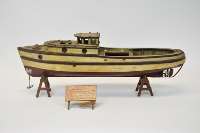 The Richmond Museum's fascinating new exhibition, Reinventing Richmond, explores how the city's identity has been created – and recreated – over time. The exhibit introduces visitors to the pioneering farmers, hardworking fishermen, daring aviators, intrepid homemakers and enterprising visionaries who continually recreated the city. The exhibition opens to the public Saturday, September 25 at 10 a.m. in conjunction with Culture Days activities taking place that day at the Richmond Cultural Centre.
"The Richmond Museum's newest exhibition reveals how our city's identity has transformed over the last 140 years as it has grown and changed" said Mayor Malcolm Brodie. "The exhibition aims to spark new conversations about what type of future we want to create in Richmond based on a deeper understanding of our past."
Visitors of all ages can get a hands-on experience with interactive exhibits, posing for photos on an over-the-top Salmon Festival float, meeting Lulu Sweet (the American actor for whom Lulu Island was named), testing themselves in a Richmond-based game of chutes and ladders, brainstorming new city slogans and designing new flags for their neighbourhoods!
Reinventing Richmond runs from September 25, 2021 to September 5, 2022 at the Richmond Museum, 7700 Minoru Gate (located in the Richmond Cultural Centre). Operating hours are 9 a.m. to 9 p.m. weekdays and 10 a.m. to 5 p.m. weekends. Visitors are asked to follow COVID-19 safety protocols including wearing a mask and maintaining social distance from other guests. Admission is by donation.
For more information about the Richmond Museum, visit www.richmonmuseum.ca. For more information about Richmond Culture Days, visit www.richmond.ca/culturedays.
About the Richmond Museum
The Richmond Museum Society supports the Richmond Museum, a community museum that collects, documents, researches, preserves, exhibits and interprets objects of historical and cultural significance to the development and history of Richmond. The museum makes the history of Richmond relevant, engaging and accessible.