2021 News & Information
Intersection video cameras to positively impact road users in Richmond
28 April 2021
The City of Richmond is making its roads safer with the introduction of intersection video cameras and available recorded footage at 110 intersections today (April 28.)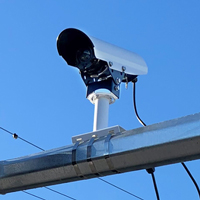 "Having video cameras at over half of Richmond's intersections is an important road safety and traffic management initiative that will positively impact road users in Richmond," said Mayor Malcolm Brodie. "By providing the City more accurate data, traffic planning to increase safety and potentially mitigate vehicle congestion will increase. The cameras will also enhance community safety as camera footage will be available for up to 30 days, to assist in vehicle-related incidents."
The launch of the intersection video cameras will be gradual over the coming weeks and tied to the unveiling of notification signs at the 110 intersections. In support of the City working with the Office of the Information and Privacy Commissioner (OIPC), camera footage will not be available at an intersection until the signs, indicating the cameras are operating, are visible to the public.

While the aim of the program is to make Richmond roads safer, steps have been taken to ensure privacy is maintained. Again, to support our work with the OIPC, the City is in compliance with regulations and will not collect video footage of a sufficient resolution quality to identify facial or licence plate data. The cameras will not be used for generic surveillance or observation.
The public and businesses may apply to purchase video footage from the cameras to assist in legal or other matters such as evidence of collisions. Video footage can be requested within 20 days of the recording date. Footage will be purged after 30 days and will no longer be available. The cost of footage will be $375 plus GST and service charge per request and the application for footage will be made online through the City's MyRichmond portal.
For more information, visit richmond.ca/videorequest or email trafsig@richmond.ca.