2021 News & Information
History comes to life this summer at Steveston's heritage sites
14 July 2021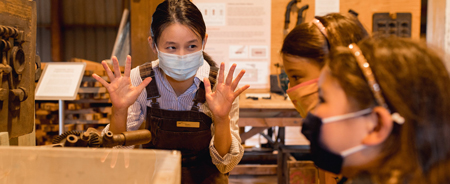 Britannia Shipyards, London Heritage Farm and the Steveston Museum are open once again, offering visitors the chance to experience these heritage sites and their fascinating history complete with costumed guides, engaging exhibits, kid-friendly programs and an on-site food truck.
"Richmond has a rich history of diverse cultures and pioneer spirit that shaped our City and made it the thriving economic community we know today," said Mayor Malcolm Brodie. "The heritage sites in Steveston offer an insight into a world gone by and give visitors an opportunity to connect with a part of Steveston's history, in-person – an experience that many have missed during the pandemic."
"We are thrilled to invite people to experience Steveston's heritage", says Diane Brow, Chair of the London Heritage Farm Society. "We are especially excited to share our hallmark teas and jams, and other great gifts in the London Farm boutique gift shop. Our heritage sites are wonderful places to have fun, learn and relax outdoors, and we look forward to seeing visitors here again."
COVID-19 safety measures are in place at all sites and include mandatory masks, hand sanitizer stations and maximum capacity limits inside buildings. Visitors can drop-in during open hours for each site, with no pre-registration required.
Britannia Shipyards National Historic Site
Britannia Shipyards is an authentic representation of a once-thriving community of canneries, boat yards and residences. Many of the heritage buildings date back to the 1880s and tell the stories of the Chinese, European, Indigenous and Japanese workers through authentic recreations of living and working spaces. The site is open seven days a week from noon to 4 p.m.
In addition to the heritage buildings, visitors should be on the lookout for vintage wooden boats moored along the Shipyards docks. This summer's highlighted vessels include the 1903 Providence, the site's flagship and the oldest vessel afloat in BC; the Silver Ann, a heritage gill net fishing boat; the SS Master, built in 1922 and believed to be the last surviving steam ship in BC; and the Gikumi, a beautifully restored 1954 wooden work boat.
Britannia Shipyards comes alive with costumed guides and historical demonstrations from when the site was home to a booming community of workers and their families. Starting Saturday, July 24, a new activity booklet will allow kids to discover engaging aspects of various buildings as they play the role of a junior boat builder. Participants can pick up the free activity booklet at the front of the Britannia Shipyards building during opening hours.
Visitors can complete their maritime experience with a fresh meal at Salty's Lobster Shack food truck, on site from Wednesdays to Sundays, 11:30 a.m. to 7 p.m. Diners can enjoy a feast at a picnic table with beautiful views of the Fraser River.
For more information, visit www.richmond.ca/britannia or check Britannia Shipyards Facebook and Instagram for the schedule of daily programs (Facebook: @britshipyards / Instagram: @britanniashipyards).
London Heritage Farm
London Heritage Farm is a four-acre, agricultural park illustrating rural life in Richmond in the early 1900s. The site includes an historical Edwardian-era farmhouse and heritage barn nestled among rolling lawns and colourful garden beds. Visitors can enjoy exhibits, a chicken coop, heritage fruit trees, a picnic area and ornamental gardens open from dawn to dusk every day.
On weekends from noon to 4 p.m. this summer, visitors are invited to explore the main floor of the farmhouse, which has been fully restored and furnished to illustrate rural life in the early 20th century. Visitors can also learn about Richmond's agricultural history with live demonstrations of churning butter or doing laundry with a washboard as part of the Living History program or visit the boutique shop where the London Heritage Farm Society sells delicious local jams and teas, and heritage-style gifts.
Families are also invited to pack a picnic and enjoy the beautiful park space and antique farm equipment. More information at www.richmond.ca/londonfarm.
Steveston Museum
The Steveston Museum is located in the centre of Steveston Village and offers displays about Steveston's vibrant history. The historic bank building includes the Steveston Post Office, which is open 9:30 a.m. to 5 p.m. from Monday to Saturday and noon to 4 p.m. on Sundays.
Located behind the post office, the Japanese Fishermen's Benevolent Society building houses fascinating exhibits on Japanese Canadian experiences in Steveston. This summer, the Japanese Fishermen's Benevolent Society building is open weekends from noon to 4 p.m. A docent will help visitors learn about the memorable experiences and contributions of Steveston's Japanese community over the last 150 years. More information at www.richmond.ca/stevestonmuseum.
About Steveston Village
Steveston is a historic fishing village located in the southwest corner of Richmond. Settled in the second half of the 1800s, early Steveston supported robust canning, fishing and boatbuilding industries. Development of this area drew workers from around the world to work in fishing, canning and farming industries. In recent decades, Steveston has undergone significant growth but retains its small town feel, historic character and fishing traditions. The City of Richmond's heritage sites highlight different aspects of Steveston's rich history.