2021 News & Information
Plan to wear pink on February 24 in support of ERASE Bullying Day
17 February 2021
Whether on Zoom calls, at school, checking in on friends online, or just hanging around the house or home office, the City of Richmond encourages everyone to wear pink on Wednesday, February 24 to raise awareness of bullying prevention.
"Join others on ERASE Bullying Day to raise public awareness and pledge to be part of the solution," said Mayor Malcolm Brodie. "Wearing pink represents your commitment to a respectful city and not tolerating bullying on this or any other day of the year."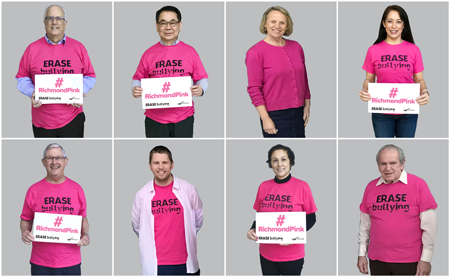 The City of Richmond, Richmond School District 38 and Richmond Public Library are once again recognizing ERASE (Expect Respect and a Safe Education) Bullying Day.
While ERASE Bullying Day events are limited this year, Richmond facilities and staff are offering the following ways of showing and encouraging kindness throughout the community:
Window displays will be created at Cambie, City Centre, Hamilton, Steveston, Thompson and West Richmond community centres
Facilities and outdoor public spaces will be decorated at Cambie, City Centre, South Arm and Thompson community centres
Richmond Fire-Rescue duty crews will be wearing pink epaulettes on their uniform on February 24
Social media messaging will be posted about kindness, connection, celebrating diversity and embracing each other's differences.
ERASE is a BC Ministry of Education strategy, empowering youth stakeholders to advocate for education free from discrimination, bullying, harassment, intimidation and violence. Each young person has a right to feel safe, accepted and respected.
For more information about ERASE Bullying Day, visit www.richmond.ca/youthinitiatives or www2.gov.bc.ca/gov/content/erase. Share your commitment and follow along on social media with the hashtag #RichmondPink.