2021 News & Information
Become a Citizen Scientist - Join Team Richmond in the City Nature Challenge 2021
30 April 2021
The City of Richmond, in collaboration with the Richmond School District 38, is once again participating in the family-friendly virtual City Nature Challenge 2021 from April 30 to May 3. This event allows cities all over the world to participate by documenting and sharing valuable information about their local ecosystems.
Located in one of North America's most productive estuaries, Richmond offers residents many opportunities to photograph plants and animals.
"Participating in the City Nature Challenge is an opportunity for residents to learn more about Richmond's incredible biodiversity while connecting with other citizen scientists online," said Mayor Malcom Brodie.
To participate in the City Nature Challenge 2021, download the free iNaturalist app, provided by National Geographic to your mobile device and search under "Projects" for City Nature Challenge 2021: Richmond, BC. Over four days, April 30-May-3, take photos of plants and animals in your neighbourhood, and upload your photos, along with location to iNaturalist.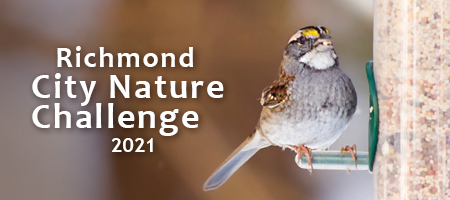 Full instructions:
Download the iNaturalist app on your mobile device
Another way: Go to the City Nature Challenge website and search under 2021 City List for Richmond, BC and join Team Richmond
With the app, take a picture before May 3 and share your observation through iNaturalist before May 9. All uploaded images taken in Richmond will be recorded for the challenge.
The app will help you identify the images.
Results will be announced on May 10, 2021.
Last year, Richmond entered 865 observations including Anna Hummingbirds, Japanese Cherry, Turkey Tail and Yellow Warblers. Let's beat our record. Go Team Richmond!
In light of the COVID-19 pandemic, we urge all participants to follow Public Health guidelines and orders. By staying close to home and exploring their immediate community and visiting parks and trails at off-peak times, residents can help reduce crowding. Always maintain a minimum two-metre physical distance between your household and others. Wash your hands regularly, stay at home if you're sick and remember your other layers of COVID protection.⁠