2021 News & Information
BC SPCA contract means new procedures for animal services and recovery in Richmond from February 1
28 January 2021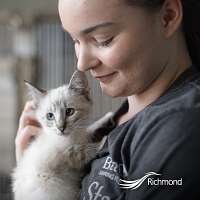 Responsibility for animal sheltering and services in the City of Richmond will transfer to the BC Society for the Prevention of Cruelty to Animals (BC SPCA) starting February 1, 2021. The new telephone number for animal services from that date is 604-709-4668.
The new agreement ensures that high quality animal sheltering, recovery and related services will continue across the city.
Effective Monday, February 1, anyone needing to contact the BC SPCA about a lost, wandering or aggressive animal in Richmond should call 604-709-4668. This is also the telephone number for reporting barking, nuisance or injured animals.
The dedicated Richmond telephone number will connect people directly with BC SPCA staff during working hours. After hours phone messaging will provide details on when and how to contact either the City's Bylaws department or RCMP.
Inquiries related to animal regulations, dog licensing and fees will continue to be directed to the City's Community Bylaws department at 604-276-4345. This telephone number is unchanged.
The BC SPCA will make every effort to contact pet owners in order to return lost and wandering animals to their homes before they are taken to shelter. If shelter is needed, animals will be processed and cared for at the SPCA's Vancouver location at 1205 East 7th Avenue while awaiting their owners or rehoming. This will enable construction to begin on the new Richmond Animal Shelter at 12071 No. 5 Road this coming spring. Because the new facility will be built on the same site, the existing shelter will close for approximately two years during the construction.
The BC SPCA supports an enhanced quality of life and ethical treatment for animals and follows the Canadian Standards of Care Guidelines for all animals in its care. It will work with Richmond pet owners to ensure they are reunited with their pets as soon as possible.
The BC SPCA and City urges owners to have their pets given IDs (i.e. tags, microchips, tattoos) and to keep their contact information up to date at both their veterinarian and the City dog licensing department (doglicence@richmond.ca) to aid in the quick return of lost or wandering animals.
The BC SPCA is taking over from the Regional Animal Protection Society (RAPS) which has supported the community by taking responsibility for the shelter and animal control throughout the City since 2017. Its existing contract ends on January 31, 2021.