2020 News & Information
Richmond starts spring with a burst of colour at the 2020 Street Banner unveiling ceremony
11 March 2020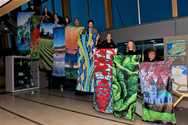 The City Council meeting held on Monday, March 9 was a colourful, art-filled affair—10 local artists unveiled their winning banner designs which will decorate street light poles across Richmond beginning this week until early 2021.
"It is wonderful to see such a robust and active artistic community in Richmond, and we're fortunate to have these winning designs decorate our city streets," said Mayor Malcolm Brodie. "Community engagement and the arts are important to Council and this contest is one of the many ways residents can participate in beautifying our city."
Over 350 designs were submitted through the annual Street Banner Contest, all of which were displayed at Minoru Centre for Active Living through the months of November and December. All entries represented one of the contest's 10 themes: Island City; Connection; Active Living; the Arts; City Centre; Heritage; Sustainability; Community; Nature; and Culture. A judging panel made up of community members shortlisted 20 designs. The public then voted for their favourites on the City of Richmond's Facebook page. In just over one week, 2,500 votes were cast and the 10 designs with the most votes in each category were chosen as this year's winners. A complete set of the new street banners are currently on display in the atrium at Richmond City Hall.
Beginning Monday, April 20, last year's banners will be available for purchase from 8:30 a.m. to 4:30 p.m., Monday to Friday, from the Community Services Division reception, located at the City of Richmond's Operations Yard, 5599 Lynas Lane.
The City of Richmond Street Banner Program is an initiative of Partners for Beautification, a community engagement program which encourages Richmond residents to become actively involved in creating a vibrant, beautiful community.
For more information on the Street Banner Program and to view the winning designs, visit www.richmond.ca/banners.