2020 News & Information
Showcase your creative side with Richmond's Street Banner Contest
10 August 2020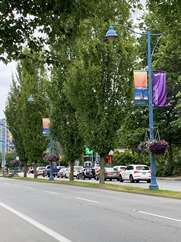 The 28th annual City of Richmond Street Banner Contest is here to provide some much needed fun this summer amongst the daily challenges faced due to the COVID-19 pandemic. This year's theme is to capture the full diversity of residents' day-to-day experiences in their own neighbourhoods. A range of artistic mediums including photography, graphic design, collage, watercolour and oil painting are welcomed.
Participants are encouraged to consider the following 10 themes when submitting their entries:
Resilience
Community
Connection
Wellness
Active Living
Urban Landscape
Nature
Island City
The Arts
Sustainability
Artists of all ages and abilities are invited to share their vision of Richmond's places, experiences and activities. All submissions that fit the banner contest criteria will be accepted from Monday, August 10 until Friday, September 18, 2020 at 5 p.m.
A judging panel consisting of community volunteers will shortlist 20 submissions which will be posted on the City of Richmond Street Banner website and can be voted on by the community (more information on the voting process will be announced in September.) Ten winners will be selected by the community. Once the 10 have been announced, all submissions will be posted on the website for public viewing.
The 10 winning designs will be showcased on 1,000 street banners throughout Richmond's downtown core and main roadway entrances to the city. The banners will be displayed for one year beginning in February 2021.
Contest winners will be awarded a $300 honorarium along with a full-sized banner featuring their winning submission. For complete contest rules and guidelines, and to submit entries, please visit www.richmond.ca/banners.
Richmond's Street Banner Contest is part of the broader Partners for Beautification program, which invites community members to become actively involved in the beautification of their city. For more information on Partners for Beautification, visit www.richmond.ca/parks/about/beautification