2020 News & Information
Explore Winter in the Village in Steveston this holiday season
02 December 2020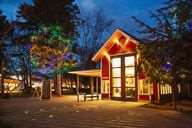 Bundle up and head down to Steveston to explore this year's Winter in the Village starting Tuesday, December 1. From decorated historic sites to online events to enjoy from home, find all the festive, free and low-cost family-friendly activities at www.VisitRichmondBC.com/WinterVillage including:
Touring Steveston with a self-guided Light Up the Village walking tour of holiday lights every day after 4 p.m.;
Voting for your favourite decorated shop window, sponsored by Tourism Richmond, Steveston Merchants Association and Steveston Insider. Find a map at www.VisitRichmondBC.com/WinterVillage.;
Exploring the forest of festive trees decorated by local merchants and organizations at the Gulf of Georgia Cannery National Historic Site;
Visiting the Britannia Shipyards National Historic Site from Thursday to Sunday, noon to 4 p.m. to hear stories of the multicultural workers who called Britannia home a century ago;
Mailing a letter to Santa at the Steveston Post Office. If it's dropped off by Thursday, December 10 you can expect a response from the big guy himself; and
Checking out the Songs in the Snow online on Saturday, December 5, 12 and 19 from 4 to 6 p.m.