2020 News & Information
Stay and play in Richmond this winter break
16 December 2020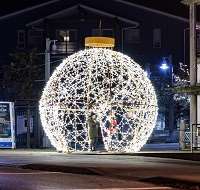 Just because we can't get together for the usual holiday celebrations, doesn't mean this festive season is limited to binge-watching television, playing video games or vacuuming the house – again!
Inside or outside, daytime or evening, the City of Richmond and its partners have organized plenty of fun local activities to do during the two-week school break from Saturday, December 19 to Sunday, January 3.
Some safe options to get you started on planning activities close to home include:
Taking in the creative festive light displays while wandering throughout Steveston Village, City Hall Plaza, Britannia Heritage Shipyards and other areas of the city. Stay physically distanced, grab a warm beverage and even a selfie or two while keeping healthy and enjoying the winter weather (okay, take the umbrella...just in case)
Channeling your inside Tessa Virtues or Elias Petterson by registering for a Winter Wonderland skating session at Minoru Arenas
Getting wet indoors (no umbrella required) by signing up for a registered family swim at our new state-of-the-art Minoru Centre for Active Living. Whether it is lap swimming, splashing around or just relaxing in the hot tub, some warm water aquatics can help wash away the winter blues
Doing an online workout at home led by a professionally trained instructor. Exercise at your own pace and move closer to achieving your personal fitness goals – or just start an exercise routine that works for you
Taking a self-guided historical walking tour at Terra Nova and Brighouse Parks. Experience some of Richmond's beautiful outdoors and burn a few calories while walking the trails and remembering times past (and we don't mean pre-COVID)
All activities are virtual or physically-distanced and meet strict health and safety guidelines as set out by local and provincial health authorities where required.
Winter Daycamps still have spaces to keep kids active and social during the school break. Find all the details and how to register at www.richmond.ca/winterbreak.