2020 News & Information
March into spring break with 20+ events and activities
09 March 2020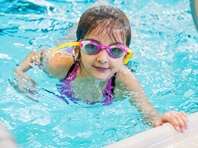 Glide and glow in the dark at Cosmic Skating, spend time playing at the award-winning Terra Nova Adventure Play Environment, drop into a media arts program and do so much more during the two week school break Saturday, March 14 to Sunday, March 29. The City of Richmond and its community partners are offering over 20 single-day and ongoing activities throughout the city–www.richmond.ca/springbreak to learn more.
Choose from a variety of indoor and outdoor activities including these eight great choices:
Join a naturalist for an informative walk to learn about the plants and animals that live in the Richmond Nature Park.
Experiment with media arts including photography, digital drawing, music and more at the drop-in sessions offered through the Richmond Youth Media Program at the Media Lab.
Swim, play and be active at Watermania and Minoru Aquatic Centre.
Register for local and out trip daycamps offered through various community centres and the Richmond Olympic Oval.
Drop-in to lots of fun and free programs at the Richmond Public Library, offered in partnership with Parks Canada, Let's Talk Science, Knit N Crochet 4 A Better World, Eye Level Learning Centre and Under the GUI.
Get outside and play in one of the many local parks including the Terra Nova Adventure Play Environment, a unique play experience that captures the imagination of kids and adults.
Skate in the dark under super cool lighting during Cosmic Skating sessions at Minoru Arenas.
Drop-in to the Richmond Museum to view City at Work, an exploration of the invisible inner workings of the City of Richmond as urban myths are busted.
For more information on all Spring Break activities, visit www.richmond.ca/springbreak or call 604-276-4300.