2020 News & Information
Report highlights initiatives taken to boost economic recovery in Richmond
07 July 2020
A dedicated business support centre, a job board for displaced workers and a list of locally made personal protective equipment suppliers are just some of the measures implemented by the City of Richmond Economic Development Office (EDO) to assist businesses impacted by COVID-19.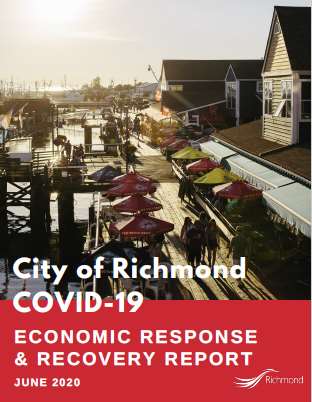 These and several other initiatives from the EDO, City and local businesses and entrepreneurs are highlighted in the June 2020 Economic Response & Recovery Report shared with Council on June 6.
"The COVID-19 pandemic has had a dramatic impact on our economy as actions necessary to mitigate risks to public health forced businesses to close and people to stay at home," said Mayor Malcolm Brodie. "Along with ensuring public health and community safety, supporting local businesses and boosting economic recovery remains a top priority for the City."
The 16-page report captures some of actions taken, already underway, or planned to reduce and alleviate the impact of COVID-19 across the city, especially among businesses and their employees. Among them:
Additional actions by the City to support local businesses and economic recovery include:
the expedited patio application process - Richmond was among the first to streamline opportunities for local eateries to expand space to allow for physical distancing without charge
reducing the municipal tax increase from 4.98 per cent to 2.97 per cent and extending the tax penalty due date to after September 30
allowing the delay of business licence renewal fees for businesses temporarily closed due to COVID-19
prioritizing fire and life safety inspections for businesses looking to reopen, and
reintroducing tower crane inspections to allow new construction to continue
The report can be found on the City of Richmond Economic Development website at www.businessinrichmond.ca/response-recovery-report.