2020 News & Information
Richmond to celebrate virtual Pride Week July 27 to August 2
15 July 2020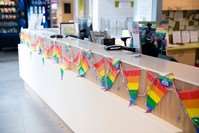 Richmond residents and their families are invited to experience 13 virtual, active and fun Pride Week activities that include a DJ, drag queen, artists, singers and online dance parties—all from the comforts of home.
"Pride Week is a great opportunity to celebrate our LGBTQ2S+ community in Richmond and demonstrate the City's commitment to building a welcoming and inclusive city," says Mayor Malcolm Brodie. "While Pride Week will look different this year because of COVID-19, the City will continue with Pride Week celebrations in a new and creative way that captures the spirit of Pride and ensures the safety of residents."
These inclusive and engaging activities, welcoming all community members, are offered by the City of Richmond, Community Associations and Societies and the Richmond Public Library.
Highlights of Richmond's Pride Week include:
For a full list of activities and links to social media channels for the 2020 virtual Pride Week in Richmond, visit www.richmond.ca/PrideWeek. Follow @FunRichmond on Facebook, Twitter and Instagram for the latest updates.
Pride events are held internationally at various times throughout the year to commemorate the history of the LGBT rights movement and recognize the value of diversity and inclusion that Pride events have come to symbolize.