2020 News & Information
Richmond residents encouraged to "Remember In Place" this Remembrance Day
28 October 2020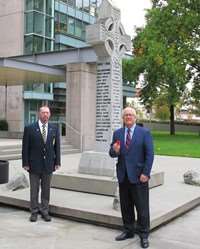 November marks an important time when we remember and commemorate the individuals who made the ultimate sacrifice for their country. To continue that important tradition and maintain public safety during the pandemic, the City of Richmond will host an online Remembrance Day service this year.
The 2020 Remembrance Day service will be broadcast online on Wednesday, November 11 starting after 10:30 a.m. The Richmond Remembrance Day Committee asks that the public refrain from gathering at City Hall this year, and Remember In Place from wherever you are at 11:00 a.m. Members of the public are encouraged to participate virtually in the online service to honour the individuals who gave their lives to serve and protect Canada this Remembrance Day.
Access to the live broadcast of the closed ceremony will be available on the City's website at www.richmond.ca/remember. The schedule for the official online ceremonies will be posted to the webpage prior to November 11. There will be two minutes of silence at 11:00 a.m.
Also on the website starting on October 30, the City of Richmond invites residents to download and display a poster featuring the Poppy Design*. The Poppy Design pays tribute to those who fought for Canada's freedom and remembers the sacrifices they made. Poppy pins will be available to pick up by donation from community facilities to support the Royal Canadian Legion's 2020 National Poppy Campaign from Monday, November 2.

Leading up to Remembrance Day, visit the Richmond Museum on Facebook, Instagram and Twitter, and Friends of the Richmond Archives on Facebook for additional content highlighting artefacts and stories that represent the war and home front experience.
* The Poppy Design is a registered trademark of The Royal Canadian Legion, Dominion Command and is used under license