2020 News & Information
Richmond goes green with road paving
05 November 2020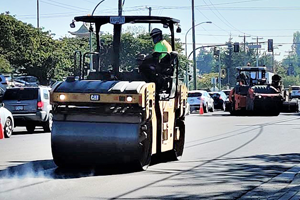 When is a road more than a road? When it has been several roads. As part of its continued commitment to sustainability, greenhouse gas and waste reduction, and a local circular economy principle, the City of Richmond has unveiled a recycled road.
The City has laid an 800 metre stretch of paving over four lanes of road along the 7000 block of No. 5 Road that is made up of 40 per cent recycled – meaning previously used – asphalt paving. Part of Richmond's High Recycled Asphalt Pavement Project, it is hoped this section of road (3.2 kilometres in total) will pave the way for more sustainable paving work in years to come.
"Road construction and maintenance is an important and necessary reality of municipal operations and it's not an area that has seen great strides in environmental improvements," said Malcolm Brodie, Mayor of the City of Richmond and Chair of the National Zero Waste Council. "Guided by our the City's zero waste commitments and our drive to be a change leader, the City of Richmond is paving the way – literally – for a sustainable future in road construction"
Until now, road construction has been limited to no more than 10 per cent recycled material as higher percentages have presented quality control challenges and resulted in sub-standard paving. The concept for this project was initiated by the National Zero Waste Council. The City of Richmond, together with Lafarge Canada, saw a timely opportunity to move it forward as an important pilot project.
Working with the industry, City staff engaged local asphalt producers to find ways to improve buyer confidence in higher levels of recycled asphalt in road paving. Through this process, the City developed a draft accreditation system to identify best practices for producing high quality recycled asphalt products.
Lafarge Canada has been a key partner in this effort as a member of the National Zero Waste Committee. Lafarge Canada applied the paving on No. 5 Road under contract with the City. Both parties will closely monitor the road section annually over time and, if outcomes are as positive as anticipated, Richmond drivers can expect to see more roads in the future using recycled asphalt.
The expected result will be an increase in confidence from local asphalt producers and customers such as cities, business and homeowners, to produce or buy asphalt paving mix with higher levels of recycled materials. Outcomes of the ground-breaking stretch along No. 5 Road will be shared broadly and its expected success could see other cities follow Richmond's lead. Several municipalities have already reached out to the City to find out more about the project.
"This project places the City of Richmond in a leadership role by engaging local industry to reduce the use of natural resources and fossil fuels, reduce waste and apply a high level of recycled material on a busy public road." Mayor Brodie said.