2020 News & Information
Richmond's online hub helps build community connection
04 June 2020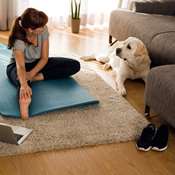 Would you like to access live-streamed fitness classes, virtual tours and book clubs, movie screenings, participatory challenges and public art engagements—all for free? Visit Richmond Connects at www.richmond.ca/connects. This online hub offers recreational opportunities aimed at ensuring residents remain supported, active and connected during the COVID-19 pandemic.
Visitors to this webpage can benefit from virtual recreation activities for every age related to physical activity, sport, arts, culture and heritage, as well as wellness resources and creative stay-at-home challenges. In addition to enhancing individual and community well-being, Richmond Connects continues to highlight Richmond as an active and healthy community during this unprecedented time.
The free opportunities shared on this webpage are provided by the City of Richmond, Community Associations, Societies and partners. The highlights include:
Anti-Boredom Challenges (ABCs)
Released bi-weekly, these simple, quirky and creative challenges are geared towards school-aged children and require minimal to no equipment.


Special Events
While events currently have restrictions, many have or are being adapted to a virtual experience including Doors Open Richmond, Pride Week 2020 and more.


Reliable Resources
A collection of resources are included from trusted agencies and organizations including the City of Richmond Physical Literacy Team, Active for Life, ParticipACTION and Walk Richmond.


Virtual Tours
Some facilities are being brought to you with online virtual tours including Britannia Shipyards, Steveston Tram and the Richmond Art Gallery.


Fitness at Your Finger Tips
Join some of your favourite Fitness Coordinators and instructors as they offer virtual exercises and live-streamed classes.
If posting a photo or video of how you're connecting at home, don't forget to share using #RichmondConnects.
For a full list of opportunities, visit www.richmond.ca/connects.