2020 News & Information
Richmond safely expands select indoor recreation programs
17 November 2020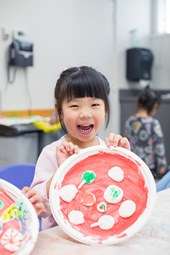 Stay connected, active and safe with additional indoor recreation programs starting soon. There are activities for all ages including Wacky Science for children, Floor Hockey Skills for preteens and Acrylic Painting for adults. Programs begin the week of Monday, November 23 with registration starting Wednesday, November 18 at 10 a.m.
The new offerings include:
French Fun and Clay Handbuilding for preschoolers
Soccer Skills, Table Tennis and Violin private lessons for children
Preteen Hangout, and Floor Hockey and Volleyball Skills for preteens
Acrylic Painting and singles play Table Tennis, Pickleball and Badminton court bookings for adults
To browse and register for programs including times and locations, visit www.richmond.ca/register.
Additional indoor and seasonal programs also include registered fitness centre visits, swimming and skating public sessions.
Pre-register one of two ways starting November 18 at 10 a.m.:
Online at richmond.ca/register using your MyRichmond account. Anyone without an account can set one up at myrichmond.richmond.ca.
By calling the Registration Call Centre at 604-276-4300, Monday to Friday, 8:30 a.m. to 5 p.m.
All facilities and programs meet strict health and safety guidelines as set out by local and provincial health authorities, and activities may be increased or decreased based on demand and public safety. To further support the public and staff, masks must be worn in all indoor City-operated facilities.