2020 News & Information
City of Richmond launches 2020 Neighbourhood Celebration Grant Program
10 February 2020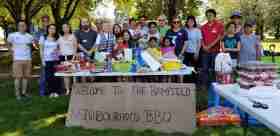 Are you looking for ways to get to know your neighbours in 2020? The City of Richmond can help. Today it launched its annual Neighbourhood Celebration Grant Program where communities can receive up to $2,500 to build a sense of local community.
The program is designed to empower community members to plan and host high quality, free grassroots events that connect Richmond residents with their local streets, parks and green spaces – and each other! Past events supported by this program have included community block parties, picnics and family-friendly movie nights in neighbourhood parks. The City encourages residents to invite a neighbour and plan an event that will contribute to a sense of neighbourhood pride and identity.
"Richmond's Neighbourhood Grant Program fosters community resiliency, neighbourhood identity, sense of belonging and intercultural harmony, all important elements of Council's Strategic Plan," says Mayor Malcolm Brodie. "This program provides funding for community members to gain experience organizing grassroots events while strengthening neighbourhood connections and building community pride."
To be eligible for funding, applicants must be a Richmond-based neighbourhood group, including two individuals living in the same neighbourhood but from different households, a not-for-profit community group, a Parent Advisory Council or a Student Council.
Event submissions will be evaluated using the following criteria:
The event must be open, inclusive and actively engage diverse community members;
Applicants must show evidence of capacity to put on the event;
The project approach must show proper estimate of resources needed and total budget required;
A commitment that the project will incorporate sustainability initiatives;
The event must take place between May 1 and September 30, 2020; and
The event must be held in Richmond.
Find out more about the Neighbourhood Celebration Grant Program and submit an online application at www.richmond.ca/celebrationgrant. Deadline for submission is Friday, March 6, 2020.