2020 News & Information
Richmond public walls wanted for vibrant community murals
21 October 2020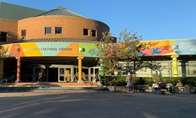 Do you own a highly visible building in Richmond that would be enhanced by a free, professional and large-scale mural? If so, the City's Public Art Program would like to hear from you as it is looking to add vibrancy to public wall spaces through its Community Mural Program.
"Richmond's Public Art Program brings together artists, community groups and local businesses to further beautify our city," said Mayor Malcolm Brodie. "The Community Mural Program turns plain walls into bright, colourful, eye catching artworks for everyone to share and enjoy. The large and unique murals create an open air art gallery that animates our neighbourhoods and streetscapes."
Interested property owners, including businesses, stratas, community centres and non-profit entities, are invited to propose a wall on their property for inclusion in the program. If successful, a pre-qualified artist will be matched with the property owner to create the mural. The City will manage the project and fund the work, and the property owner will provide permission and access to the wall for installation, with an agreement to keep and maintain it for a minimum of five years. Locations must be visually accessible to the general public. Private single family residences and properties are not eligible.
The deadline to apply is Monday, November 16, 2020.
Recently completed murals include Continuum by Richard Tetrault and Jerry Whitehead, which covers the entire perimeter frieze of the Richmond Public Library and Cultural Centre at 7700 Minoru Gate, and Richmond's home of Curl'ture & Curl'munity by Mark Anderson for the Richmond Curling Club located at 5540 Hollybridge Way.
Commercial property owners can get more details about the Community Mural Program from the Public Art Program by calling 604-247-4612 or emailing publicart@richmond.ca. Find additional information and an application form at www.richmond.ca/culture/publicart/whatsnew/communitymural.