2020 News & Information
Spooktacular ways to celebrate Halloween online
22 October 2020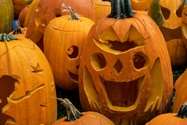 Halloween is almost here to kick off spook season and the City is offering online, interactive options for families to participate in and enjoy as an alternative to in-person gatherings. All details can be found in one place at www.richmond.ca/halloween.
Some of the ways to get into the Halloween spirit this year are:
Enter the social media contests for costumes, pumpkin carvings and home decorations. Starting Friday, October 23, simply take pictures of your friends and families and post them on Instagram using the hashtag #RichmondBCHalloween and tag @CityofRichmondParks. Three prize baskets worth $100 of items from local businesses will be randomly awarded on Monday, November 2, 2020.


Youth and toddler programs being offered virtually by the Richmond Public Library and South Arm Community Association – activities include scary story time, virtual escape rooms, online dance parties and more.


Bundle up, turn off the lights and watch a film from the City-curated scary and not-so-scary movie list.


Check out some of the City-sourced do-it-yourself Halloween decorating projects.
Following the direction of local public health authorities, all Richmond firework celebrations and gatherings have been postponed until next year. Residents are encouraged to celebrate Halloween safely and responsibly. For tips on celebrating Halloween safely this year, visit the BC Centre for Disease Control's website at: http://www.bccdc.ca/health-info/diseases-conditions/covid-19/social-interactions/halloween
It is illegal to possess, buy, sell or detonate fireworks and firecrackers in Richmond. Under Richmond's Fire Protection and Life Safety Bylaw 8306, offences and fines include purchasing fireworks ($1,000 fine), displaying fireworks for sale ($1,000 fine), selling or distributing fireworks ($1,000 fine) or possession of fireworks without a permit ($200 fine). A zero tolerance approach will be taken.