2020 News & Information
Smartphone app offers rapid emergency access to Richmond first responders
18 February 2020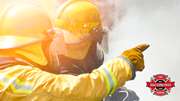 Richmond Fire-Rescue and RCMP will now have faster access to locked and secure buildings in the case of emergencies thanks to a new smartphone app-based system available to multi¬family and commercial buildings in Richmond.
The Rapid Entry System is now in place at over 25 multi-family buildings across Richmond, and the voluntary program is an example of the Council's Strategic Goal of building a safe and resilient City. The system is paid for by the building owner and used by both Richmond Fire-Rescue and Richmond RCMP. The technology provides access to the common areas of the building, not any private suites.
"When responding to an emergency call, first responders can encounter delays arriving at secure buildings, when there is no one available to let them in," said Richmond Fire-Rescue Chief Tim Wilkinson. "Seconds count in an emergency, and the Rapid Entry System is a progressive approach to these delays. The technology uses a first responder's smart phone and electronic key application to unlock and allow access into the building."
An example of the additional benefits of this system was demonstrated during the 2013 Calgary, Alberta floods. The downtown core of Calgary was evacuated due to flooding and many high-rise buildings were without power. The Calgary Fire Department activated the smartphone electronic key app, allowing access by first responders to specific buildings to address unsafe conditions related to electrical and gas systems. The Rapid Entry system is instrumental in providing timely access to secure buildings for emergency responders, resulting in cost savings to building owners.
For more information on Richmond's voluntary system, email fire@richmond.ca or call Richmond Fire Rescue at 604-278-5131.