2020 News & Information
Richmond goes online to showcase 2020 capital projects
12 August 2020

Better transit access, crucial water management upgrades and facility infrastructure improvements are just a few of the interesting capital projects people can explore without leaving the comfort of their home.
The City of Richmond's popular Capital Projects Highlights showcase has gone digital, providing a convenient online method to view the many on-going and upcoming capital projects taking place across the City.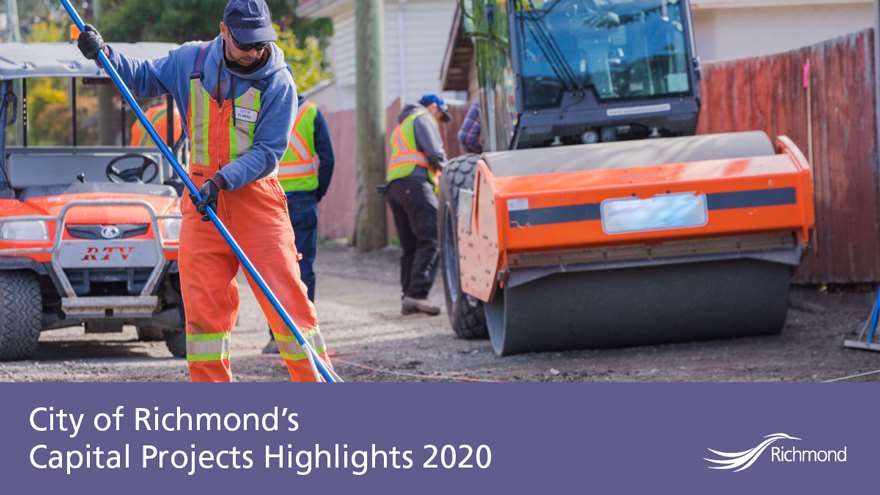 The public is invited to visit bit.ly/RmdCapitalProjects and start exploring some of the major projects taking place to advance the City's strategies including sustainability and safety while building a stronger, more resilient community.
Usually presented in a popular, interactive open house at City Hall, this year's online highlights share the same level of information by using existing City technology – LetsTalkRichmond.ca and the City's geographic information system (GIS.)
Visitors can view projects on interactive maps of Richmond or in lists of project names. Simply click on the projects of interest and a concise summary appears with photos and some with video.
Projects are categorized into five sections: transportation, parks, engineering and public works, buildings and public art (associated with capital projects). Visitors can find key information and ask questions online (until Wednesday, September 30, 2020) or contact the project lead directly to find out more about specific highlights or the City's capital project strategy.
Projects highlighted include:
Engineering and Public Works

Dike
Pump stations
Neighbourhood drainage
Parks

Minoru Park lakes
Alexander Park (above the Alexander District Energy Utility)
Transportation

Multi-use pathways
Transit stop improvements and pedestrian connections
Buildings

Richmond Ice Centre
Gateway Theatre
Public Art associated with capital projects throughout the City at

pump stations
fire halls

h

eritage and recreation facilities
Visit bit.ly/RmdCapitalProjects to get started.