2020 News & Information
Richmond to celebrate Canada Day apart, but together
18 June 2020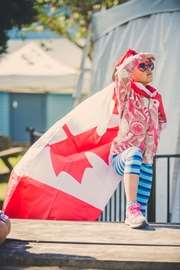 July 1 marks Canada's birthday and although this year's festivities will look different, the show must go on—online that is. Canada Day celebrations will move to online platforms this year as the City of Richmond, in partnership with the Steveston Community Society, celebrates Canada Day at Home on Wednesday July 1, 2020.
"We hope everyone will join in Canada Day at Home and participate in any way they are able," said Alan Sakai, President of the Steveston Community Society and the Richmond Agricultural and Industrial Society. "Decorate, sing, dance, dine and reflect. We want everyone to stay healthy and safe so next year, we can celebrate in person at the 2021 Steveston Salmon Festival."
The Canada Day at Home festivities look to capture some of the magic that fills Steveston Village every year but from the safety of family bubbles and home gatherings. Tune in to see a Welcome from Mayor Malcolm Brodie and take part in a city-wide singalong of O Canada led by Steveston's own Audrey De Boer.
The Steveston Salmon Festival parade is a long-standing tradition and this year, Richmond residents are encouraged to decorate their front lawns and driveways, and dress their family and pets in red and white to celebrate the day and create a virtual parade, which will be viewable online on the @FunRichmond Instagram account. You can submit your photos and participate in the parade using the hashtag #RichmondBCParade.
Canada Day at Home will be capped off with virtual fireworks that can take place in your own backyard using a web-based application.
Find all details, including activities to help you prepare for Canada Day, and a program schedule at www.richmond.ca/CanadaDay and follow @FunRichmond on Facebook, Twitter and Instagram for the latest updates and to share Canada Day at Home with your friends and neighbours.