2020 News & Information
Call for artists and other creatives for Culture Days 2020
13 July 2020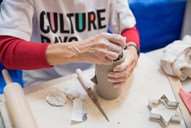 Richmond's artists, musicians, dancers, writers, architects, chefs, designers, photographers, artisans, curators and other creative individuals are invited to register their free public activities to be part of the 11th annual Culture Days, which will be held for an entire month this year from Friday, September 25 to Sunday, October 25.
As in previous years, Culture Days activity organizers are encouraged to offer free, in-person demos, tours, workshops and presentations, but only so long as they can adhere to COVID-19 physical distancing and safety guidelines. Those unable to offer an in-person activity are encouraged to hold an online event or post digital content for people to access at anytime at www.culturedays.ca over the Culture Days four-week period.
Culture Days will be promoted locally by the City of Richmond on a range of digital and traditional platforms. While the annual Culture Days event is always a great way to celebrate creativity in our own communities, going digital this year has the added benefit of allowing participants to share their work across the country.
Activities can be registered at www.culturedays.ca at any time. The website is also a great resource for anyone looking to plan, create and promote their activities, whether online or in-person.
For more information about Culture Days in Richmond, please visit www.richmond.ca/culturedays or contact Todd Evanger, Arts Programmer at 604-247-8320 or todd.evanger@richmond.ca.