2020 News & Information
No. 3 Road Art Columns exhibition celebrates the work of two Resident Art Groups at the Richmond Arts Centre
18 February 2020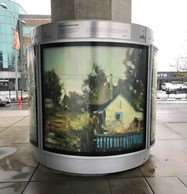 The next time you're travelling to or from the Aberdeen or Lansdowne Canada Line stations, be sure to check out the No. 3 Road Art Columns artwork exhibition – presented in the large, backlit cases at the base of three concrete columns that hold up the Canada Line tracks.
This six-month exhibition showcases members of the Richmond Artists Guild and the Textile Arts Guild of Richmond (TAGOR). Richmond Artists Guild artists John Beatty, Tom Taylor, Larry Tillyer and Susan Viccars present reproduced paintings in their exhibition that celebrates the Fraser River and its role in the cultural heritage of Richmond. TAGOR's exhibition features a range of textile arts including the work of Shirley Rampton, Pamela Mahoney and the TAGOR Collective.
The Richmond Artists Guild and TAGOR are two of the 11 Resident Art Groups based out of the Richmond Arts Centre (7700 Minoru Gate). Resident Art Groups are a hub of artistic opportunity activating and inspiring artists and community members to connect through the arts. The creative contributions of Richmond residents, through visual arts, dance and theatre have a significant and positive impact on community health and reflect the vibrancy of Richmond as a diverse and dynamic city.
The No. 3 Road Art Columns series are part of the City's commitment to enhance the No. 3 Road streetscape, in partnership with InTransit BC. This is the first of a two-part year-long ongoing exhibition presented by the Richmond Public Art Program. For more information about this project, visit www.richmond.ca/culture/publicart/whatsnew/no3rdartcolumns.htm.
About the Resident Art Groups
The Richmond Artists Guild was founded in 1955 with the goal of providing a forum for local artists to meet, improve their skills and learn more about painting, drawing and other 2D mixed-media art forms. For more information, visit www.richmondartistsguild.com.

The Textile Arts Guild of Richmond (TAGOR) was established in 1975 and is dedicated to advancing all facets of textile arts. A large part of their work includes charitable donations of quilts, knitted goods, chemo caps and book bags to communities in need. For more information, visit www.tagor.ca.
For further information on the Resident Art Groups and how to participate or become a member of a group, visit https://www.richmond.ca/culture/centre/artgroups.htm