Steveston Interurban Tram
About the Steveston Tram
Steveston Tram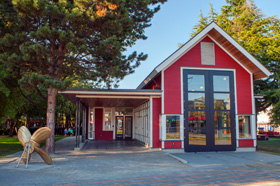 4011 Moncton Street
Richmond BC V7E 3A8
Phone: 604-238-8081
Email: interurban1220@richmond.ca

Facility Hours
Fall
Sep 6-Dec 31
Tue-Sun: 12:00-4:00pm
Closed on holidays in fall

Holiday Hours
Sat, Dec 17: 12:00-4:00pm
Sun, Dec 18:12:00-4:00pm
Mon, Dec 19: Closed
Tue-Sat, Dec 20-24: 12:00-4:00pm
Sun-Tue, Dec 25-27: Closed
Wed-Sat, Dec 28-31: 12:00-4:00pm
Sun-Mon, Jan 1-2: Closed

Winter/Spring
Jan 3-May 19
Tue-Sun: 12:00-4:00pm
Closed on holidays in winter and spring
Welcome to the Steveston Tram
Tram Car 1220 is the largest artefact in the City of Richmond's collection. In 2016, the Tram underwent restoration that took almost three years documented in the video below.

Steveston Tram - Restoration
Ted Clark and Tram Car 1220
Ted Clark was a passionate photographer of trams, trains and streetcars around Metro Vancouver, leaving a legacy of thousands of rail images to the City of Richmond's Archives. Take in this 2-minute video to view some of Ted's images of Tram Car 1220 and how one man contributed to Richmond's history.
Visit the City's searchable archive to view more of Ted Clark's images, plus others from photographers of interurban trams.
Take a Virtual Tour of the Steveston Tram
For an interactive 3D exhibit tour, choose the link below.
(works with Google Chrome, Firefox or IE 11+).

Steveston Tram 3D Tour

A History of the Interurban Tram Line
The rail line on Lulu Island - built and owned by the Canadian Pacific Railway in 1902 - ran freight and passenger steam trains. In 1905, the CPR leased the line to the BC Electric Railway Company (BCER), which electrified the line.
In 1913, BCER added 28 tram cars bought from the St. Louis Car Company in Missouri. Among these was Tram Car 1220, which today is the largest artefact in the Richmond Museum's collection.
The Interurban line contributed to the development of Richmond's city centre. The Interurbans and the people who worked on them became an important and cherished part of the community.
The Interurbans did not survive the post-war prosperity that led to an explosion in the number of automobiles on the roads and an expansion of new suburbs not serviced by rail. On February 28, 1958, the final Interurban tram car rolled the rails between Marpole and Steveston, marking the end of a definitive era for the Richmond community and for transportation history in BC.
As of today, there are only seven BCER operated Interurban tram cars left. Of the 28 original 1,200 class tram cars from St Louis, five survive today including Tram Car 1220 in Steveston. The other four surviving "sister" tram cars are the 1223 located at the Burnaby Village Museum, the 1235 in eastern Canada and the 1225 and 1231 in Surrey operated by the Fraser Valley Heritage Railway Society. The remaining two cars - the 1207 and the 1304 - were both built by BCER at the New Westminster car barn and are also located in Surrey with the 1225 and 1231.

Volunteer Opportunities
Living History Heritage Ambassadors
Suspended at Steveston Tram until further notice
Britannia Shipyards is seeking volunteers. Sign up here and find more information.

Find us on Social Media!


Facebook @StevestonInterurbanTram


Instagram @StevestonTram
#StevestonTram