Steveston Museum
About Steveston Museum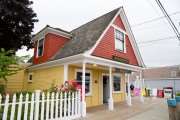 Steveston Museum
3811 Moncton Street
Richmond, BC V7E 3A7
Email: stevestonmuseum@richmond.ca
Post Office: 604-271-6868
Museum: 604-238-8026
The Post Office, Museum and Japanese Fishermen's Benevolent Society Building are open during the hours listed below.

The Visitor counter and public washrooms are currently closed.
Post Office Hours
Mon-Sat: 9:30am-5:00pm
Sun: 12:00-4:00pm

COVID-19
Explore Richmond's Heritage Safely
Changes include:
Mandatory masks inside buildings

Strict requirement of visitors to follow physical distancing guidelines
Hand sanitizer stations positioned at the entrance to each building
Adherence to the building's entry and exit rules with ropeways and signage ensuring the flow of one-way traffic
The re-opening of facilities is part of the City's Restoring Richmond Plan, a careful and phased approach to restoring recreational and community programs, services and amenities that were placed on hold in March 2020. While the City encourages people to be active and enjoy the benefits of social connectivity, it also wants to ensure any restoration of services is done safely and strictly adheres to public health and WorkSafeBC guidelines.
Visit www.richmond.ca/covid19 and the City's social media channels for updates about the City's Restoring Richmond Plan.
Welcome to Steveston Museum
In 1914 and 1915, Albert Chilton and his family lived upstairs in the Northern Crown Bank building. Today the building is known as the Steveston Museum. For a glimpse of Steveston Village - and our building - in 1914 and 1915, watch the video below.
Steveston Museum - Chilton Family Collection

About Steveston Museum
Our mandate is to preserve, promote and tell the history of Steveston.
Japanese Fishermen's Benevolent Society Building
The is building features interpretations about the Japanese-Canadian experience in Steveston from the time of their arrival in Steveston to the time of their internment during World War II. Their story is told in their own words, and uses their objects and archival images.
The exhibition begins with the arrival of the first Nikkei, or people of Japanese descent. Their many contributions to Steveston from fishing and farming to cultural arts, and from education to kendo and judo are explored. The exhibition also interprets the Japanese community's internment during World War II and the postwar return of some Nikkei to Steveston.
Town Square Park
Surrounding the museum is this special park, which was remodeled in 2016 and combines English Frontier Garden-style at the entrance and transitions into a Japanese-inspired park.
Highlights of the park include a Wakayama sister-city friendship cherry blossom tree, a dog bowl grave marker commemorating a locally beloved dog named Big Red, a torii-style gate, zen-style paving and a raised moss garden. The moss garden has a suikinkutsu water feature, one of only two in Canada.
Photography
View the document below for Professional Photography guidelines.


Photography Guidelines 2020

Find us on Social Media!


Facebook @StevestonMuseum


Instagram @StevestonMuseum
#StevestonMuseum
Steveston Museum and the City of Richmond works in partnership with the Steveston Historical Society.