Steveston Museum & Visitor Centre
About Steveston Museum and Visitor Centre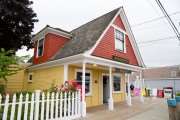 Steveston Museum
3811 Moncton Street
Richmond, BC V7E 3A7
Email: stevestonmuseum@richmond.ca
Post Office: 604-271-6868
Museum: 604-238-8026
Visitor Centre: 604-271-8280
Museum and Post Office Opening Hours
Monday to Saturday: 9:30 am-5:00 pm
Sunday: Noon-4:00 pm
Tourism Richmond Visitor Centre Opening Hours
Monday to Saturday: 9:30am-5:00pm
Sunday: Noon-4:00pm
Holiday Hours
Remembrance Day - November 11 - CLOSED
Christmas Eve - December 24 - 9:30 am to 2:00 pm
Christmas Day - December 25 - CLOSED
Boxing Day - December 26 - CLOSED
New Years Eve - December 31 - 9:30 am to 2:00 pm

We offer programs, events and activities throughout the year:
About Steveston Museum
Our mandate is to preserve, promote and tell the history of Steveston, British Columbia.

Come in and be surrounded by history. The museum's building was built in 1905 as Steveston's first bank. Today, discover the people and moments that shaped Steveston Village.


Walk through to the Japanese Fishermen's Benevolent Society building at the rear of the site. Among the exhibits, explore the triumphs and tragedies experienced by the local Japanese Canadian community.
Not just a Museum
Inside the Steveston Museum, you will also find the Tourism Richmond Visitor Centre and the Steveston Post Office .

At the Tourism Richmond Visitor Centre, friendly staff help everyone to enjoy the best that our region has to offer. The Visitor Centre has a range of souvenirs from the locally filmed Once Upon a Time television show.
The full-service Steveston Post Office offers special edition coins and the latest stamps for collectors.
Town Square Park

Surrounding the museum is Town Square Park, remodeled in 2016. It combines English Frontier Garden-style at the entrance of the park and transitions into a Japanese-inspired park.
Highlights of the park include a Wakayama sister-city friendship cherry blossom tree, a dog bowl grave marker commemorating a locally beloved dog named Big Red, a torii-style gate, zen-style paving and a raised moss garden. The moss garden has a suikinkutsu water feature, one of only two in Canada.
Volunteer Opportunities


Living History Heritage Ambassadors
Be a part of the new Living History program at Steveston Historic Sites!
As a Heritage Ambassador volunteer, you will share the stories of the people who lived and worked at the four locations-Britannia Shipyards, the Steveston Tram, the Steveston Museum and London Heritage Farm. You will be dressed in period costumes, while demonstrating activities such as playing cards, churning butter, sewing, explaining tram car mechanics and much more.
No experience is necessary.
Training is provided.
Volunteers will not be acting/in character. Volunteers must be 15+, outgoing, passionate about history and willing to share their knowledge and enthusiasm with the public.
The shift times, days and activities vary across sites. Generally, shifts take place 12:15-4:30pm, Friday, Saturday or Sunday. A commitment of 6 shifts in a six-month period is requested.
Sign up here for an Information and Training Session. These sessions are held once a month and also cover the Living History Program at the Steveston Tram. If you have any questions, email us at shsvolunteers@richmond.ca or call us at 604-238-6106.

Photography
Please see the document below for Professional Photography guidelines.


Photography Guidelines 2020

Find us on Social Media!


Facebook @StevestonMuseum


Twitter @StevestonMuseum


Instagram @StevestonMuseum
#StevestonMuseum
Steveston Museum and the City of Richmond works in partnership with the Steveston Historical Society.