Richmond Museum
About the Museum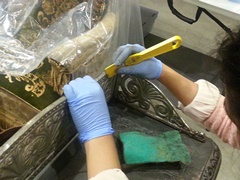 Richmond Museum
Explore the culture and history of Richmond in the museum's constantly changing exhibition gallery. There is always something new to discover!

7700 Minoru Gate
Richmond, BC V6Y 1R9
Phone: 604-247-8300
Email: museum@richmond.ca

Richmond Cultural Centre location:

Cultural Facilities Map
Facility Hours
The Arts Live Here exhibition explores how the arts speak to us, connect us and give us unique ways to understand ourselves, our communities and our city. The exhibit runs September 24, 2022 to September 4, 2023.
Regular hours will resume after the exhibit opens.
Mon-Fri: 9:00am-9:00pm
Sat & Sun: 10:00am-5:00pm

Vision
Our vision is to make the history of Richmond relevant, engaging and accessible.
The Richmond Museum collects, documents, researches, preserves, exhibits and interprets objects of historical and cultural significance to the development and history of Richmond.

Visit the Richmond Museum for more information about the Richmond Museum Society.
Take a Tour of the Richmond Museum

Facility Staff

Manager, Museums & Heritage:
Rebecca Clarke
Curator of Exhibitions:
Sheila Hill
Educational Programs Coordinator:
Emily Ooi
Public Programmer:
Sarah Shovlain
Cultural Program Leader:
Golmehr Kazari
Curator of Collections:
Vacant
Assistant Curator:
Camille Owens
Society Board Executive
Chair: Krystal Newcombe
Vice Chair: Bilan Hassan
Treasurer: Mark Sakai
Secretary: Emily Friesen

Supported by: