Richmond Museum
About the Museum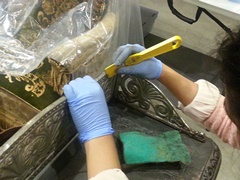 Explore the culture and history of Richmond in the museum's constantly changing exhibition gallery. There is always something new to discover!

7700 Minoru Gate
Richmond, BC V6Y 1R9
Phone: 604-247-8300
Email: museum@richmond.ca

See our location in the Richmond Cultural Centre on the

Cultural Facilities Map
Facility Hours
Mon-Fri: 10:00am-6:00pm
Sat: 10:00am-4:00pm

The Richmond Museum reopening is part of the City's Restoring Richmond Plan, a careful and phased approach to restoring recreational and community programs, services and amenities that were placed on hold in March. While the City encourages people to be active and enjoy the benefits of social connectivity, it also wants to ensure any restoration of services is done safely and strictly adheres to public health and WorkSafeBC guidelines.
Vision
Our vision is to make the history of Richmond relevant, engaging and accessible.

The Richmond Museum collects, documents, researches, preserves, exhibits and interprets objects of historical and cultural significance to the development and history of Richmond.

Visit http://www.richmondmuseum.ca for more information about the Richmond Museum Society.

Take a Tour of the Richmond Museum

Press the play button and then the square button in the bottom, right-hand corner to watch the video in full screen HD.
«


Facility Staff
Manager, Museums & Heritage: Rebecca Clarke
Curator of Exhibitions: Sheila Hill
Curator of Collections: Rebecca Forrest
Assistant Curator: Camille Owens
Educational Programs Coordinator: Emily Ooi
Doors Open Coordinator: Golmehr Kazari

Society Board Executive
Chair: Greg Walker
Vice Chair: Keith Liedtke
Treasurer: Mark Sakai
Secretary: Flavia Kajoba

Supported by:


Please point your mouse on Museums and Heritage Sites, and then Richmond Museum in the main menu on the left to see the list of topics in the fly out menus.